In a Visual Company people communicate visually with flowcharts, mind maps and other visuals just as frequently as they do with written documents. Why?
SmartDraw.com is the creator of SmartDraw, software that helps companies work smarter by communicating visually.

Everyone understands that "a picture is worth a thousand words." SmartDraw makes it possible to communicate visually by enabling creation of presentation-quality visuals in minutes. It's comprehensive, supporting every kind of visual including flowcharts, timelines, org charts, mind maps, floor plans, and marketing charts. It's integrated, working seamlessly with Microsoft Word, PowerPoint, and Excel.

SmartDraw's web site serves as a valuable resource with in-depth information on how to create and use visuals to boost profits and increase productivity.
We live in exponential times. It's estimated that more unique information will be generated this year alone than in the previous five thousand years combined!
We've all heard the saying "a picture is worth a thousand words." Visuals let you condense information into a form that is both quickly digestible and shows connections and relationships. In a fast changing world, using visuals helps solve the information overload problem. I believe that within five to ten years, all companies will be visual companies.
Studies show that communicating with visuals is up to six times more effective than communicating with words alone. When you look at information presented visually, you can immediately see the key ideas and the relationships between them, instead of having to take the time to read a lengthy report.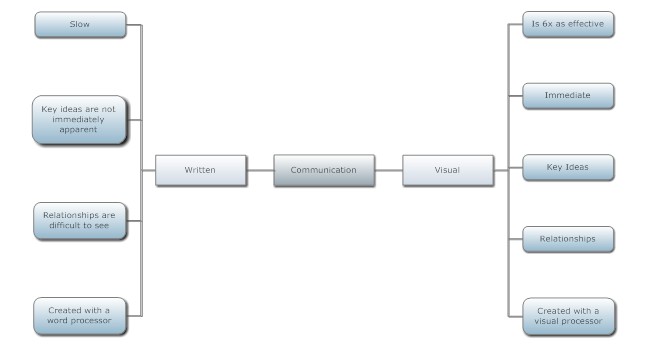 In a global company with many different languages, visuals provide a common way to summarize and effectively communicate key ideas. Mind maps, organization charts, flowcharts, project charts, graphs, plans and blueprints are all very effective at communicating information clearly and quickly, within diverse groups and distributed organizations. Yet today less than three percent of business communication includes visuals. This is because, until the development of visual processor software in 2010, creating a visual was more trouble than it was worth.
Before the visual processor, visuals had to be created manually with complex graphics software, usually by an expert. Even for experts, producing a visual like a flowchart was time consuming and the results were often not presentation-quality.
But now, just as anyone can use a word processor to quickly create professional-looking written documentation, anyone can use a visual processor to just as quickly create professional-looking visuals.
With a visual processor, a typical computer user can create presentation-quality visuals in minutes. The visual processor makes the promise of the Visual Company a reality.

Why Become a Visual Company?
Visual Companies grow faster, operate at lower costs and are more profitable than other companies.
A Visual Company is agile because it communicates new initiatives quickly and effectively.
It operates efficiently with low costs because everyone understands the priorities and follows the same processes.
It is flexible: knowledge is easily shared between people because it is documented and accessible.
In a Visual Company, processes are defined and documented with process flowcharts.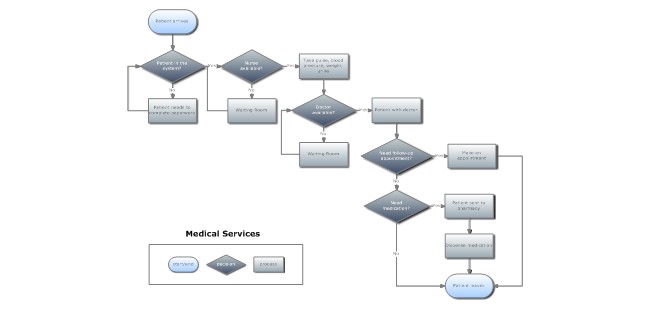 Projects are planned with mind maps and managed with Gantt charts and timelines that are automatically generated from the mind mapped plan.
There are clear assignments of responsibility that are documented with an organization chart.
Visual Companies formulate and communicate their strategy and operating plans visually. They summarize key issues using a mind map so these things can be easily communicated and understood.
Visual Companies illustrate their generic strategy with a matrix. They validate their strategy with a SWOT diagram.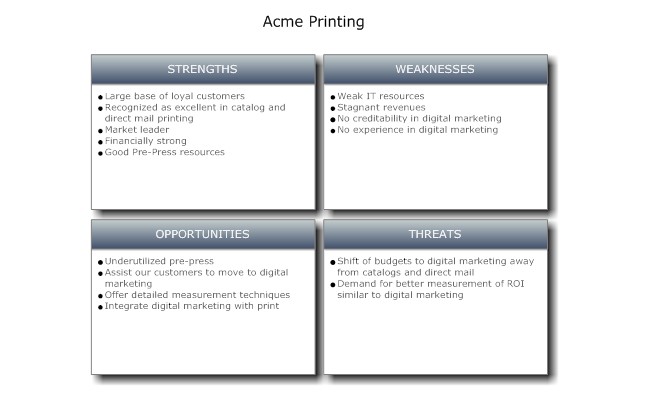 And Visual Companies create their operating plans with a project chart.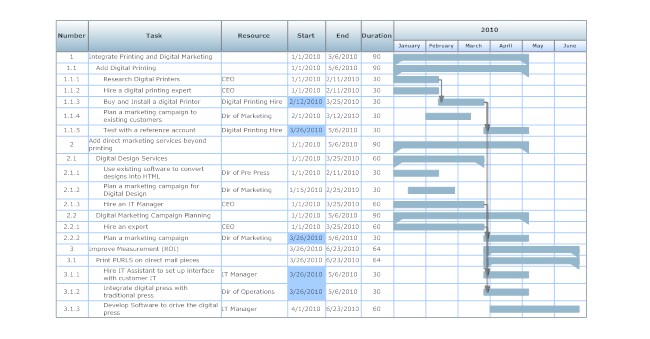 Summary
A Visual Company uses visuals to summarize and quickly communicate key information. Its organizational structure, goals, plans, processes and expertise are documented and easily accessible, and all of its employees have a visual processor on their desktop, just as they have a word processor today. This allows the company to operate efficiently and to react quickly in order to take advantage of new opportunities.
Visual Companies grow faster, operate with lower costs and are more profitable than traditional companies . In the next decade all companies that survive and prosper will have to become visual companies.
---
About the Author

Paul Stannard is the founder and CEO of SmartDraw.com. A self-taught software developer, Paul began his career in the PC industry in 1980, founding a software company that developed software for Apple computers. Since that time, he has written more than a dozen published software applications, primarily graphics software. Paul, himself, wrote the first version of SmartDraw, and continues to play a key role in developing the company's software products. To read Paul's complete biography, click here.
4 Responses to "Creating a Visual Company: What it means and why productivity hinges upon it"
Leave a Reply