Too often, creation and maintenance of organizational performance measures becomes an administrative exercise accompanied by lifeless, mundane monthly review meetings. Real ownership of a performance measure means an individual is not only accountable for the performance indicated but is dedicated to improving that performance over time. Such ownership seldom exists when performance measures are assigned based on what appears to be a reasonable or logical association. Rather, true ownership occurs when performance measure inputs are assessed and responsibility and accountability deliberately assigned to the individual or work group whose actions and decisions most significantly affect the indicated performance. And as all accountabilities, ownership of performance measures should be documented and communicated to the respective owners.
---
The text above is only a small portion of this article. Become a
StrategyDriven Premium Member
to gain access to the entire article and the over 100 other
StrategyDriven
members-only articles, whitepapers, models, and tools and templates.
Become a StrategyDriven Premium Member
for only $9.95 / month or $94.95 / year !
Want to learn more? Click here to learn about the benefits of a StrategyDriven Premium Membership.

---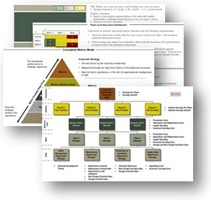 Enterprise Performance Measurement
We can work with you to assess and improve your performance measurement system; yielding metrics and reports that are operationally relevant, organizationally consistent, and economically implemented. The resulting system helps improve managerial decision-making, organizational alignment, and individual accountability. Learn more about how we can support your implementation and upgrade efforts or contact us for a personal consultation.