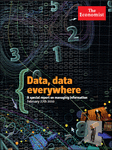 Data, Data Everywhere: A Special Report on Managing Information
by SAP
Learn how businesses are transforming themselves based on the abundance of data, and benefits found in the various uses of information and the new methods of visualizing data.
This special report from The Economist covers the phenomenon of the Data Deluge--everywhere you look, the quantity of information in the world is soaring. According to one estimate, mankind created 150 exabytes (billion gigabytes) of data in 2005. Merely keeping up with this flood, and storing the bits that might be useful, is difficult enough. Analyzing it, to spot patterns and extract useful information, is harder still. Even so, the data deluge is already starting to transform business, government, science and everyday life. It has great potential for good-as long as consumers, companies and governments make the right choices about when to restrict the flow of data, and when to encourage it.
---
StrategyDriven
has partnered with TradePub.com to offer you complimentary one-year subscriptions and/or free trials to dozens of leading business publications. No coupons, credit cards, special codes, or purchases are necessary. Publications are entirely FREE to those who qualify.
Click here
for more information on
Data, Data Everywhere: A Special Report on Managing Information
.