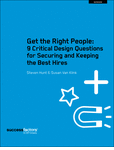 Get the Right People: 9 Questions for Getting the Best Hires
by SuccessFactors
When it comes to hiring, it's all about quality, not quantity. Are you getting the best?
The most important decision a company makes about employees is whether to hire them. Whether a company succeeds or fails ultimately depends on whether it hired the right people to effectively execute its strategies. And as many companies have already learned, quality hiring is now mandatory. In this paper, you'll learn how the hiring environment has dramatically changed and things you need to consider, including:
Creating a more collaborative recruiting process that balances hiring quality with efficiency
The critical design questions that must be asked before interviewing talented candidates
Establishing a long-term roadmap for achieving recruiting excellence
It's true. High-quality candidates are getting harder and harder to find. But by building your search parameters around the guidelines outlined in this paper, you can greatly increase your chances for hiring success. Get your paper now, compliments of SuccessFactors.
---
StrategyDriven
has partnered with TradePub.com to offer you complimentary one-year subscriptions and/or free trials to dozens of leading business publications. No coupons, credit cards, special codes, or purchases are necessary. Publications are entirely FREE to those who qualify.
Click here
for more information on
Get the Right People: 9 Questions for Getting the Best Hires
.