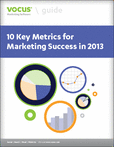 10 Metrics for 2013 Marketing Success
by Vocus, Inc.
With this guide, you'll learn which specific metrics you should be measuring in Search, Social, Email, and Publicity.
Planning your 2013 marketing strategy? Don't use guesswork when last year's figures can show you the way. Vocus has created a guide to 10 key metrics that gives you an all-round view of your 2012 performance, and where to go from here. As well as a guide to the numbers, you'll also find the tips and tactical advice to turn up your performance in each area this year.
---
StrategyDriven
has partnered with TradePub.com to offer you complimentary one-year subscriptions and/or free trials to dozens of leading business publications. No coupons, credit cards, special codes, or purchases are necessary. Publications are entirely FREE to those who qualify.
Click here
for more information on
10 Metrics for 2013 Marketing Success
.