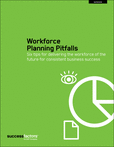 Six Pitfalls of Workforce Planning
by SuccessFactors
Know the pitfalls that companies can fall into when doing strategic workforce planning.
With aging workforces and a shortage of critical talent being among the biggest challenges facing today's businesses, strategic workforce planning--the discipline of forecasting future gaps between demand and supply of critical talent--has become one of HR's most important responsibilities. In this white paper, SuccessFactors discusses the common pitfalls that companies fall into--and how to avoid them, including:
The danger of expecting HR to "own" workforce planning
Failing to see the bigger picture
Trying to implement too many changes before you're ready to succeed
Learn about these pitfalls and others that can dramatically alter your chances for success. Download your copy now, compliments of SuccessFactors.
---
StrategyDriven
has partnered with TradePub.com to offer you complimentary one-year subscriptions and/or free trials to dozens of leading business publications. No coupons, credit cards, special codes, or purchases are necessary. Publications are entirely FREE to those who qualify.
Click here
for more information on
Six Pitfalls of Workforce Planning
.