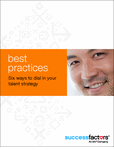 Six Ways to Dial in Your Talent Strategy
by SuccessFactors
Learn the six steps to creating a business case for talent.
What's the difference between a compliance-driven HR organization and a business-integrated HR organization? An HR strategy that is centered around an effective talent program. Because creating such a program doesn't come without cost, this best practices shows the six areas to focus on when making a business case for talent. Among them:
Search for your rainmakers
Build a talent pipeline
Get new hires up to speed quickly
But it doesn't stop there. It's business-critical input from the company that knows talent management better than anyone - SuccessFactors. Learn more about how they can help you take the talent in your organization to the next level.
---
StrategyDriven
has partnered with TradePub.com to offer you complimentary one-year subscriptions and/or free trials to dozens of leading business publications. No coupons, credit cards, special codes, or purchases are necessary. Publications are entirely FREE to those who qualify.
Click here
for more information on
Six Ways to Dial in Your Talent Strategy
.