StrategyDriven Leadership Conversations focus on the values and behaviors characteristic of highly effective leaders. Complimenting the StrategyDriven Management & Leadership articles, these conversations examine the real world challenges managers face every day that are not easily solved with a new or redesigned process and instead demand the application of soft leadership skills to achieve a positive outcome.
Episode 7 - Sixteen Sources of Leadership examines the sixteen leadership practices and how these help individuals at all levels become more effective leaders.
Additional Information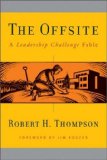 Complimenting the tremendous insights Robert shares in The Offsite
and this leadership conversation podcast, are the additional Leadership Challenge materials and resources found on his website, Leader Inside Out.
Robert has generously made available a document listing the sixteen sources of leadership that can be downloaded by clicking here.
Final Request...
The strength in our community grows with the additional insights brought by our expanding member base. Please consider rating us and sharing your perspectives regarding the StrategyDriven Leadership Conversation podcast on iTunes by clicking here. Sharing your thoughts improves our ranking and helps us attract new listeners which, in turn, helps us grow our community.
Thank you again for listening to the StrategyDriven Leadership Conversation!
---
About the Author

Robert Thompson, author of The Offsite: A Leadership Challenge Fable
, is the founder of Applied Performance, a leadership and personal communications services company for entry-level through chief executive officers. For the past 25 years, he has worked with a distinguished group of clients that include AT&T, Hewlett-Packard, Johnson & Johnson, Lockheed Martin, Sony, and Sun Microsystems. To read Robert's full biography, click here.

Nathan Ives is a StrategyDriven Principal, and Host of the StrategyDriven Podcast. For over twenty years, he has served as trusted advisor to executives and managers at dozens of Fortune 500 and smaller companies in the areas of management effectiveness, organizational development, and process improvement. To read Nathan's complete biography, click here.
Podcast: Play in new window | Download (Duration: 34:12 — 47.1MB)
---
FREE StrategyDriven Trial Membership

Start your FREE trial membership* and receive:

FULL ACCESS to StrategyDriven's premium content for 14 days
FREE COPY of a StrategyDriven Expert Contributor book†
EVALUATE how StrategyDriven gives you a competitive advantage
* Free 14 day trial included with a monthly membership registration. A monthly recurring subscription of $9.95 will begin after the initial 14 day trial period. Memberships can be cancelled at any time. Premium Member access will continue until the free/paid subscription expires.
† Available only to those living within the United States after the first monthly membership payment is received. Name and address information required. Books typically valued from $14.95 - $29.95 USD. Book value is not guaranteed.
---