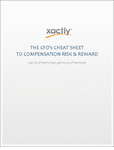 The CFO's Cheat Sheet to Compensation Risk & Reward
by Ultimate Software
Finance leaders; find out how to stop struggling with time-consuming, inaccurate incentive compensation processes.
When you automate, you minimize errors and gain the time you need to focus on organizational goals. Find out how in this quick guide! This 4-page guide outlines 7 ways that automated compensation management software improves your ROI:
Streamlined data and workflow processes
Compensation dollars that come back — in multiples
Business application investments that generate ROI
A back-office environment that works — in the cloud
Fewer errors
Major reduction in administrative time and other manual processes
Ready for audits
---
StrategyDriven
has partnered with TradePub.com to offer you complimentary one-year subscriptions and/or free trials to dozens of leading business publications. No coupons, credit cards, special codes, or purchases are necessary. Publications are entirely FREE to those who qualify.
Click here
for more information on
The CFO's Cheat Sheet to Compensation Risk & Reward
.