Every organization is challenged by risks manifest through its many different day-to-day operations. To help monitor and manage these risks, most organizations employ groups providing performance and compliance risk assurance so that significantly adverse consequences are avoided. These groups typically carry out their function through the conduct of periodic, in-depth assessments of those areas representing the highest risk to the company. Such assessments are both costly and time consuming; their accuracy rapidly diminishing with the passage of time since the assessment's performance.
How then can an organization economically monitor performance and compliance risk on a more continuous basis in such a way as to enable a timely, preemptive response should an elevated risk condition be detected?
Well-conceived risk management dashboards aid oversight organizations including internal audit, management oversight, and compliance groups, in monitoring the organization's overall risk profile and risk-based operational performance. Such dashboards focus on the organization's key risk processes and include drill-down measures monitoring for diminished risk margins. (See StrategyDriven article, Organizational Performance Measures Best Practice – Vertical Cascading) The system contains both organizational and oversight action thresholds prompting action to ensure continued, effective risk mitigation. (See StrategyDriven articles, Organizational Performance Measures Best Practices – Predefined Action Thresholds and Multiple Action Thresholds) Furthermore, the risk management dashboards should inform the development of annual oversight assessment plans as well as where oversight resources should be applied for preemptive assessments based on situational and conditional performance. (See the StrategyDriven Self Assessment Program Forum)
Construction and Use of Risk-based Performance Metrics Dashboards
---
The text above is only a small portion of this article. Become a
StrategyDriven Premium Member
to gain access to the entire article and the over 100 other
StrategyDriven
members-only articles, whitepapers, models, and tools and templates.
Become a StrategyDriven Premium Member
for only $9.95 / month or $94.95 / year !
Want to learn more? Click here to learn about the benefits of a StrategyDriven Premium Membership.

---
About the Author

Nathan Ives is a StrategyDriven Principal and Host of the StrategyDriven Podcast. For over twenty years, he has served as trusted advisor to executives and managers at dozens of Fortune 500 and smaller companies in the areas of management effectiveness, organizational development, and process improvement. To read Nathan's complete biography, click here.
---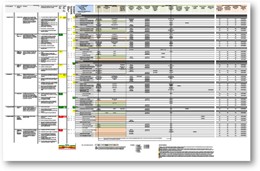 Corporate Risk Analysis, Management, and Mitigation
We help reduce corporate risk exposure through an independent assessment of your enterprise risk programs. We can help you develop a risk profile, benchmark your risks against industry peers, identify risk management program gaps, and develop and implement a multi-year oversight program to manage your risks consistent with industry guidelines. Learn more about how we can support your implementation and upgrade efforts or contact us for a personal consultation.