Risk Management Best Practice 2 – Integrated Risk Assurance Oversight Matrix
Maintaining compliance in today's highly regulated, rule-driven marketplace requires diligent oversight of the organization's core processes by the company's staff. This oversight takes many forms from internal audits, self-assessments, management observations, and quality checkpoints embedded within the processes themselves. These points of oversight, however, may individually fall short from providing fully effective compliance risk assurance. Therefore, deliberate action should be taken to marry these assurance activities into a single cohesive program.[wcm_restrict plans="49005, 25542, 25653″]
The first step in establishing an integrated risk assurance oversight program is to identify those internal activities providing assessment coverage of the organization's core processes and programs. Such an assessment matrix relies on the clear identification of core organizational processes typically grouped by function or functional like organization accompanied by a listing of the various internal persons and groups providing deliberate, focused and routine assessment of the effectiveness of the program's implementation that necessarily includes compliance with government regulations and industry standards. The matrix is further enhanced when additional details of the oversight activities, such as evaluation frequency and specific areas of coverage, are covered. Figure 1 provides an example of one such matrix.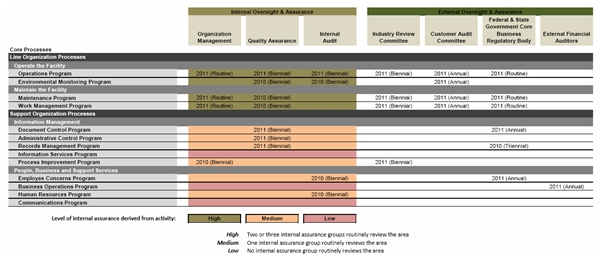 Figure 1: Core Process Risk Assurance Matrix
Final Thought…
While an organization must rely on its own internal or directly contracted resources to provide effective oversight, such oversight activities benefit from the insights provided by governmental regulatory and industry evaluative activities. Therefore, truly best practice risk assurance matrices will also include those external bodies providing oversight to the various core organizational processes with equally detailed frequencies, focus areas, and other such information as is collected and documented for the internal assurance activities. By documenting the external organization oversight mechanisms, internal assessors are provided a clear line-of-sight to other relevant information sources when performing their evaluations. Likewise, business leaders receive a complete portfolio listing of oversight activities their organization will be subjected to.[/wcm_restrict][wcm_nonmember plans="49005, 25542, 25653″]
---
Hi there! Gain access to this article with a StrategyDriven Insights Library – Total Access subscription or buy access to the article itself.
Subscribe to the StrategyDriven Insights Library

Sign-up now for your StrategyDriven Insights Library – Total Access subscription for as low as $15 / month (paid annually).

Not sure? Click here to learn more.

Buy the Article

Don't need a subscription? Buy access to Risk Management Best Practice 2 – Integrated Risk Assurance Oversight Matrix for just $2!
[/wcm_nonmember]
Additional Information
StrategyDriven provides other informative articles and tools on how to synthesize data to create a complete picture of performance. These include:
Related content from StrategyDriven
https://www.strategydriven.com/wp-content/uploads/RiskAssurMatrix.jpg
423
284
StrategyDriven
https://www.strategydriven.com/wp-content/uploads/SDELogo5-300x70-300x70.png
StrategyDriven
2012-01-03 11:48:59
2018-12-23 23:20:11
Risk Management Best Practice 2 – Integrated Risk Assurance Oversight Matrix