Guide To Employee Name Badges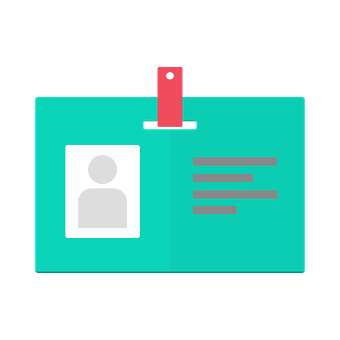 You would be surprised to discover the monumental number of choices you have at your disposal when it comes to purchasing professional name badges for your company. You need to determine the type of badges you want to buy, how many badges you are going to buy, the size of the badges, the style of them, the colors used, and so on and so forth. These decisions are a lot more important than you may imagine. After all, you want your name badges to be unique and impressive. They are a representation of your company and thus they need to be a good representation.
There are several different types of name badges available. In general, name tags are separated into two categories; permanent and reusable. Deciding between the two options is the first decision you should make and it is a very important decision at that. The latter option – a reusable name badge – is very much recommended. Nevertheless, as is the case with all products, there are pros and cons and these qualities need to be assessed.
Essentially with a reusable name badge, you will have name badges created which acts as a shell. You can then pop in a piece of cardboard that will have the name of the person who is going to wear the badge on it. This means that when someone leaves your company and another person comes in all you need to do is change the piece of card. This means you do not need to spend any more money on having more name badges created. This highlights an obvious benefit; cost-efficiency. You can ensure your costs are kept low and that once you have made your initial investment on name badges it is unlikely that any more money will need to be spent. Keeping costs down is highly important in any business and thus this is a crucial advantage.
A lot of people deterred from buying reusable name badges because they deemed them to be less professional with regards to image. Nevertheless, with the advancements in technology and design, this is a notion that is largely no longer shared. The way in which most of the reusable badges operate is via a clear plastic seal and thus if well designed it is often impossible to tell that the name of the employee is merely printed on a bit of cardboard.
Aside from the fact that a reusable name badge is absent of any permanent name printed on it, the design process is pretty much identical. You can incorporate any colors you like, you can have any shaped name badge you like, and you can add your company's logo or the name of your company, and so on and so forth. Therefore you will not be compromised in any other areas of the design process or style outcome.
There are lots of benefits to be had by opting for reusable name badges for your company. You can keep your costs low and ensure that no new products need to be ordered, whilst also benefiting from an effective and stylish badge.
Choosing the right supplier
When ordering business products it is of the utmost importance that you purchase from a company offering quality and affordability. After all, you need to ensure that the products you receive are perfect for your business. It is inefficient to have to order more products, and thus spend more money. Moreover, every decision you make effects the successfulness of your business, and therefore every purchase you make has heightened importance. This is something that certainly applies to buying name badges as well. You need to ensure that you buy tags that are clear, long-lasting, innovative, effective and affordable. Therefore, finding a top company to purchase these badges from is essential.
When seeking a company providing name badges you need to find a company who offers you a free sample or at least allows you to order one badge without needing to buy in bulk. This allows you to be certain that you are happy with the badges you are spending your money on. There are a lot of companies out there who do not offer either of these options. This means that you have to spend your cash on a bulk order of name badges and this is something that can be very damaging if the badges are not what you were expecting in the end.
In addition to this, you should make sure that the company offers a vast selection of different identification badge designs, as well as other products, like corporate medals. After all, you do not want to have the exact same name badges as the rest of the country. You want your company's badges to stand out from the crowd and be recognizable. After all, badges offer you the opportunity to strengthen your brand identity and image. In fact, there are a lot of companies nowadays which offer badge templates and then you have the opportunity to build on these and make them more unique and thus you play the designer role. This is a great way of making sure that you put your company's stamp on the name badges.
It is also recommended that you take a read of the business's testimonial page. A lot of individuals overlook the importance of these pages. However, those who have written a review were in the exact same position as you at one point and thus they will provide you with the information that you truly want to know. This is instead of the information that the company wants you to know. If a business does not have a testimonial page then this is a worry because there is no verification of the value of their products.
Finally, make sure you get in touch with the company. You should give them a call or drop them an email. Ask the professionals for their opinion regarding the name tags they believe will be best for your business specifically. Not only is this important in giving you an added opinion and thus the ability to make a better decision. But it is also important because it gives you an indication as to whether the company is of a high standard or not.
Related content from StrategyDriven
https://www.strategydriven.com/wp-content/uploads/name-1714231__340.png
340
340
StrategyDriven
https://www.strategydriven.com/wp-content/uploads/SDELogo5-300x70-300x70.png
StrategyDriven
2019-07-16 16:00:10
2019-07-16 14:29:40
Guide To Employee Name Badges