Traditional vs Digital Marketing: Why You Don't Have to Choose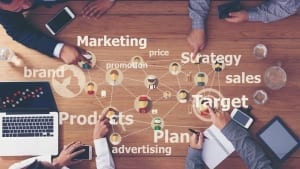 Traditional vs digital marketing, which is better? Neither is. The fact is, you should be using both.
Used right, your traditional marketing campaigns will boost your digital marketing success and vice versa. The only way to achieve maximum marketing success is to use both strategies.
How is this accomplished? Find out below.
The following guide will explain the relationship between these two different marketing strategies. It also offers practical tips and examples of how to make these two beasts cooperate for greater success than you've ever seen!
Read on to learn all about it.
Printed Links
Lesson 1: stop thinking "links" are just for digital content. They're not.
All of your printed ads should always "link" your audience to your digital campaigns in some way. We'll explain with a few practical examples below.
Print With QR Codes
With QR technology, your magazine ads and advertising signs within public reach can literally link to a digital advertising platform. You can and probably should include a QR code on every printed ad your audience can aim a phone at.
What should these codes do? More important is what they can do. They can fulfill any digital CTA you can imagine.
"Scan here to join!" "Order here to get yours in 3 days!" "Download the app and get 10% off your next visit!"
Besides, why wouldn't you do this? People love to scan codes for digital goodies. According to recent statistics, 11 million US households will scan a QR code this year.
Geotarget Your Digital Campaigns Through Print
One of the best applications of this technology is the ability to geotarget your digital campaigns via your printed ads. Simply have billboards and sign ads in a specific location point traffic to one of your digital ad campaigns.
This way, you can have your digital campaign reach the geographically-specific audience you want to target. Or, at least, it significantly increases your chances beyond locally-targeted online ads alone.
Furthermore, you can combine digital geotargeting with your billboards for a marketing double-whammy. That is, set your geotargeted digital ads to display on mobile devices in the same vicinity as your billboard to make sure you don't miss anyone.
Alternative Digital Invites in Print
With or without QR codes, you can use your print ads to get the word out about your SMS marketing club. As an alternative to a QR invitation, simply print a text code. Example: "Text YES to 0403 for more information/to receive exclusive discounts/to hear the latest updates."
You can also refer your print ad audience to your web address or YouTube channel. Or post a hashtag phrase at the bottom of your poster to link it to your social media marketing strategies.
From Your Website to Their Door
Now, let's try linking in the opposite direction. Direct mail marketing gives you a better chance of marketing success with your website traffic. Specifically, it gives them one more option of how to receive your marketing messages.
Next to your website's email newsletter signup, include an invitation for your printed newsletter. You can also offer catalogs, weekly sales ads, coupon books, or magazines with exciting content related to your brand and niche. You may even want to partner up with one or more other companies on a mutually beneficial publication.
Traditional vs Digital Marketing: It's Not a Choice
"Traditional vs digital marketing" is a marketing myth. It's an agreement, not a competition.
Stop choosing one or the other. Choose both. To truly excel at marketing, keep this guide and follow these tips.
If you found this guide helpful, click below to share on social media.
Related content from StrategyDriven
https://www.strategydriven.com/wp-content/uploads/Traditional-vs-Digital-Marketing-Why-You-Dont-Have-to-Choose.jpeg
1125
2000
StrategyDriven
https://www.strategydriven.com/wp-content/uploads/SDELogo5-300x70-300x70.png
StrategyDriven
2020-02-17 16:00:28
2020-02-17 14:58:39
Traditional vs Digital Marketing: Why You Don't Have to Choose