In-House or Outsourced IT: Which Is Best for Your Business?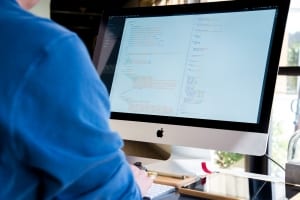 Presently, IT businesses have a lot of requirements and various tasks to be done from design, content creation up to development, marketing, and administrative work. Every task is important and requires human resources. The main question is whether to hire a full-time in-house team or outsource and bring in the experts only when it's necessary?
In-house vs. Outsourced IT: What's the difference?
The insourcing or in-house team is a practice when the work and tasks are performed within the operational infrastructure of the company. While outsourcing is a process of contracting experts, who are not affiliated with the organization, for completing specific tasks.
The main difference between the approaches is the way tasks, projects, and work are divided between the departments for strategic purposes. So, what is best for your company: an in-house or outsourced team? Both approaches have their own benefits and limitations. Let's get to the bottom of the beneficial and negative impacts of each practice.
In-house IT team: Benefits and Limitations
Hiring employees to your in-house IT team, the huge advantage is that you can train them to your business's specific needs, and the workers are always available. When interviewing the candidates, you choose only those who suit the requisite level of skills, knowledge, experience. Thus, you control, monitor, and track all the processes of hiring and work.
The deep understanding is the next advantage. The office workers know the culture of the company and are aware of all project aspects and business objectives. Besides that, they work with the project from the very beginning that means they know it in detail. Thus, the team can start to work immediately without a need to get familiar with it.
The high quality is an unquestionable advantage of insourcing that stems from the previous issues. When you build the in-house team, you can be sure that they will do their best, and you'll get the results that suit your expectations.
The main drawbacks of hiring office workers can mainly relate to the initial financial outlay. Thus, you need to train the newbies of the team, and after you need to constantly update their knowledge and skills. That can be a costly affair.
That's saying nothing about the regular salary with the full pack of employee benefits, including vacation, sick leaves, and so on. Besides, it doesn't matter if there is a task for a worker or not, you need to pay a salary anyway.
Absence issues are the next pitfalls to mention. In case your team member is sick or just leaves the company, some time along with the money is needed on new hiring or endure project pauses.
Outsourced IT team: Benefits and Limitations
Due to the Deloitte global outsourcing survey made in 2016, there are two primary reasons companies outsource:
to cut costs;
to free the in-house team to focus on core business objectives.
These are the main advantages though. No need to pay high salaries or equip the workers. You can bring in the outsourcing developer, writer, designer, etc. with a specific skill set to take a certain task only.
That gives time for your full-time staff to complete and focus on core business functions. Outsourcing gives you access to the huge talent pool. Not only can you hire specialists all over the globe, but also the rates of overseas professionals can be lower.
The biggest cons of outsourcing IT teams is the poor quality of work and management issues. It can be a challenge to find a freelancer to meet the expectations and to accomplish the task in time.
Bottom line
Today the economic situation makes businesses more flexible and search for new approaches to stay afloat and competitive. Facing the choice between the in-house and outsourced team, it's evident that there is no one-size-fits-all solution to this dilemma. When dealing with the right in-house IT team, the time, patience, and diligence is required. Also, you should clearly understand what skills are necessary for the business to be successful in the long term. In its turn, outsourcing can be a more cost-effective and immediate solution. However, as evidenced in practice, the best way is to combine these two approaches. Take the most important roles in-house, delegating some tasks like guest writing, graphic design, problem troubleshooting, etc. on-call to make workflows more efficient without additional expenses added.
---
About the Author

Alexey Kutsenko is CMO at DDI Development company, that provides custom web & development services to worldwide clients. Alexey has a vast experience in building marketing strategies for various clients, defining the client's needs, and leading digital marketing strategies in the company.
Related content from StrategyDriven
https://www.strategydriven.com/wp-content/uploads/screen-1839500_1280-1.jpg
854
1280
StrategyDriven
https://www.strategydriven.com/wp-content/uploads/SDELogo5-300x70-300x70.png
StrategyDriven
2020-06-02 16:00:58
2020-06-02 20:50:49
In-House or Outsourced IT: Which Is Best for Your Business?