Ever wonder why things cost so much, take so long, or break so often? Want to identify those specific improvement actions that would lead to breakthrough performance?
Implement the turnkey program that drives excellence in every aspect of your business's performance. In 2014 alone, Sevian Business Performance Assessments identified over $200 million of performance improvement opportunities across four companies! Just imagine what it might do for you. 1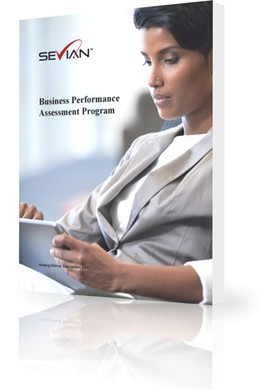 Business performance assessments represent in-depth evaluations of organizational functions for the purpose of identifying improvement opportunities.
The Sevian Business Performance Assessment Program provides all of the tools and information needed to establish a robust, best practice assessment program guiding objective evaluation of organizational performance.


Sevian Business Performance Assessment Program Product Abstract
Program Document
Product ID: BPA-EP-14V01R05C02
Date Published: August 2014
Document Type: Executing Procedure
Document Length: Approx. 400 pages
File Type: Adobe PDF (.pfd)
Program Training
Introductory Training: 1 day, conducted onsite for up to 15 trainees
Program Implementation Support
Facilitated Assessment: 4 days, conducted onsite, and supported by 1 Sevian Business Advisor
1. Results will vary and are not guaranteed. Performance improvement opportunities listed are atypical and may not be available within some organizations or assessment areas. Additionally, these performance improvement opportunities were identified during business performance assessments led and performed by StrategyDriven Advisors possessing specific technical knowledge of and experience in the assessed areas.
2. Sevian Business Programs are customized to your organization's specific attributes. As such, your customized program will be delivered 2 – 4 weeks following receipt of requested organizational data.
3. StrategyDriven maintains strict confidentiality of client data in accordance with our Confidentiality Agreement policy.
SCHEDULE A SEVIAN BUSINESS PERFORMANCE ASSESSMENT PROGRAM REVIEW MEETING