Unaware of the 'big picture' of organizational performance? Find it difficult to pinpoint the underlying causes low productivity, diminished revenues, or employee or customer complaints?
Implement the integrated organizational performance measurement program that provides deeper insights to broad-based organizational performance and helps you quickly identify those underlying performance elements preventing achievement of superior performance.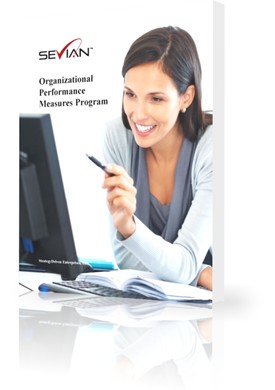 An effective performance measurement program drives alignment of an organization's efforts to achieving its mission goals.
The Sevian Organizational Performance Measures Program includes all of the tools and information needed to develop and maintain a performance metrics system that quantifiably monitors important characteristics of your organization's products and services and the performance of the individuals and processes creating them.


Sevian Organizational Performance Measures Program Product Abstract
Program Document
Product ID: OPM-IP-15V01R02C02
Date Published: August 2015
Document Type: Implementation Procedure
Document Length: Approx. 300 pages
File Type: Adobe PDF (.pfd)
Program Training
Introductory Training: 1 day, conducted onsite for up to 15 trainees
Program Implementation Support
Facilitated Organizational Performance Measures Framework Development: 4 days, conducted onsite, and supported by 1 Sevian Business Advisor
1. Sevian Business Programs are customized to your organization's specific attributes. As such, your customized program will be delivered 2 – 4 weeks following receipt of requested organizational data.
2. StrategyDriven maintains strict confidentiality of client data in accordance with our Confidentiality Agreement policy.
SCHEDULE A SEVIAN ORGANIZATIONAL PERFORMANCE MEASURES PROGRAM REVIEW MEETING