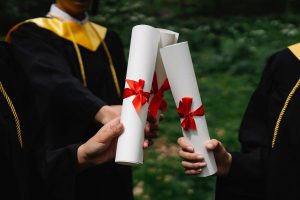 Opting for an MBA (Master of Business Administration) degree is one of the important decisions for aspiring entrepreneurs. It is one of the initial steps to start your entrepreneurial journey on a high note. It plays a key role in nurturing your management skills and helps you build the right business sense. To establish a successful business, you have to manage everything efficiently. From marketing to dealing with clients, investment to sales, you have to streamline everything. You have to ensure that your business operations keep working smoothly. So, earning a high-level business degree like an MBA also positively impacts your decision-making and helps you make progressive decisions.
Achieving business success is not only about managing everything properly. You also have to expand your business at some point, so earning high-level business qualifications makes you aware of how to build a strong network. Once you start networking, it opens the gates of new business opportunities for you. Eventually, it allows you to increase your brand recognition, leads to business growth and ROI-driven results. Let's find out why you need to earn an MBA degree.
1. To Earn Specialization as per Your Goals
There is a wide range of MBA programs that you can consider according to your interest or goals. For example, if you want to build a career in the accounting field, then you can opt for an accounting degree in MBA. It will give you insights into the latest accounting practices that significantly impact your career growth. To know more, check out these three ways to boost your career with an MBA in accounting degree to get a better idea that will help you make the right career decision.
On the other hand, you can also consider disciplines of general management, strategic management, marketing, human resources, and many more. There are plenty of branches of business, so earning MBA as per your preference can help you advance in your career. You should understand that you cannot do well in all aspects of the business. Therefore, you need to identify your area of interest and make the decision accordingly. Judge your personal capabilities and understand the demand of every business role. Going for the right MBA discipline is important not only for your career success but also for the success of the company where you will serve in the future.
2. To Nurture Advanced Management Skills
Management is one of the critical components of any business, so earning an MBA degree allows you to develop management skills. The curriculum of different MBA programs can be different, but every program will help you take care of the various business management aspects. You have to keep an eye on different things, from keeping track of financial health to monitoring projects. So, an MBA degree allows you to come out of your comfort zone and to do justice to all responsibilities.
In today's rapidly changing business environment, you have to stay on top of the latest advancements. While completing an MBA degree, you get exposure to the advanced business practices that make you aware of the latest management techniques. Once you start challenging yourself, you can also develop collaboration skills that play a key role in the management and working with the team.
3. To Avail Better Career Opportunities
One of the major benefits of an MBA is that it provides you with an excellent career-changing opportunity. Almost every business student opts for an MBA degree to improve career prospects. Before applying for the MBA program, you should try to get a job to work in the industry. It will give you hands-on experience in your relevant discipline, so it will be easier for you to decide which career path is the best fit for you. Also, you will be able to set clear future goals and pursue your passion.
MBA graduates have higher chances of securing top managerial level positions with a higher pay scale. It increases their worth in the industry and allows them to work in multinational organizations.
4. To Build Business Network
Being an MBA student, you get great opportunities to expand your business network. You get the chance to interact with professors, fellow students, and different influential people who can help you in setting up your business. It is that time when you get the chance to learn the dos and don'ts of business from the people who have been in your situation earlier. So, it gives you great learning lessons that go a long way with you in your business journey.
You can gain valuable business insights when you access a great alumni network of different MBA programs. It makes you aware of different business ideas and how you can target your potential customers to become a top brand. You should understand that your connections are a great source to keep you one step ahead of your competitors. Because establishing a successful business takes years, and if you already have a good PR, then it means you do not have to put much effort.
5. To Start Your Business
The main purpose of pursuing the MBA degree is to prepare yourself to start your own company. It makes you aware of all the technical aspects of business and helps you take growth-driven steps. You get to know about the possible traps in which any rookie businessman can fall easily. So, it allows you to form your business vision and hire the right individuals who can become a part of your success journey.
Acquiring a high-level degree like MBA is one of the initial steps you take to build your business from scratch. From marketing, investment, and communication to management, it makes you aware of different business traits that you need to become successful at the top level. Also, having a successful business can give you plenty of perks, but it also puts a huge responsibility on you to look after your team. You have to treat your team like a family because eventually, they are the ones who will help you achieve your goals. It is not possible to manage everything on your own, so earning an MBA degree also enlightens you about such aspects.
https://www.strategydriven.com/wp-content/uploads/pexels-george-pak-7972735.jpg
800
1200
StrategyDriven
https://www.strategydriven.com/wp-content/uploads/SDELogo5-300x70-300x70.png
StrategyDriven
2022-02-17 17:00:59
2022-02-17 14:38:35
All The Right Reasons to Get an MBA