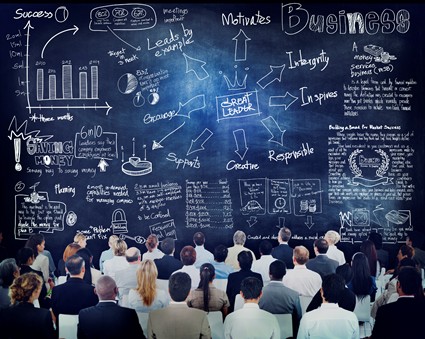 An effective business performance assessment program does more than simply identify performance improvement opportunities. Highly effective programs reinforce management's commitment to and fosters a culture of continuous performance improvement among all organizational members. To achieve this, these programs must be inclusive of as a many individuals as possible throughout the assessment process; engaging personnel – from the C-Suite to the shop floor – in interviews, on assessment teams, and at the final closeout briefings.[wcm_restrict plans="47787, 25542, 25653″]
Large group closeout briefings provide an opportunity for management to display openness and candidness with the workforce regarding the opportunity and need to improve. Such briefings include assessment participants as well as those who did not participate but who are from the functional organization impacted by the assessment findings. Such large group briefings should be attended by the following individuals:
Senior executive from the function being assessed
Functional area managers representing those groups being assessed
Functional area supervisors
Open ended invitation to all off-duty and available personnel from the functional areas assessed without shutting down business operations
Note that line organization members not able to attend because of their roll in maintaining continuous operations should be briefed on the results at an alternative time by their manager.
Large group closeout briefings should be two way engagements between assessment team members, assessment participants and the members of the workforce at large. Such briefings are typically structured as follows:
Kick-off: Provided by the functional area senior executive or manager, the kick-off conveys support and appreciation for assessment team and their findings.
Assessment Overview: Presented by the assessment team leader, the assessment overview details the purpose and scope of the assessment itself.
Beneficial Practices and Shortfalls Report-out: Individually presented by the assessment member(s) responsible for the findings, these discussions begin with description of the finding (problem statement), supporting observations, and identified causes and contributors. At the conclusion of each shortfall presentation, briefing attendees should be allowed to provide comments on the issue and ask questions of the presenter. These interactions should seek to further clarify the issue presented and challenge the factual basis and conclusions derived by the assessment team.
• Closing Statements: Provided by the functional area senior executive or manager, the closing statements should encapsulate the assessment's overall evaluation of performance and reinforce management's support for the assessment team.
Final thoughts…
Large group assessment closeout briefings create a transparency between management and the workforce that may be uncomfortable for some managers and assessment team members. It should be expected that, on occasion, the assessment team's findings and conclusions will be rigorously challenged and, in some cases, need to be rethought. Furthermore, management fallibilities will be on display to the organization. Care should be taken not to present shortfalls as a punitive indictment against any individual or work group but rather as a learning opportunity for all organizational members in the spirit of continuous improvement. When done in this manner, individuals will embrace the learning culture, strive for continuous improvement, and help the organization achieve levels of excellence never before imagined.[/wcm_restrict][wcm_nonmember plans="47787, 25542, 25653″]
---
Hi there! Gain access to this article with a StrategyDriven Insights Library – Total Access subscription or buy access to the article itself.
Subscribe to the StrategyDriven Insights Library

Sign-up now for your StrategyDriven Insights Library – Total Access subscription for as low as $15 / month (paid annually).

Not sure? Click here to learn more.

Buy the Article

Don't need a subscription? Buy access to Business Performance Assessment Program Best Practice 15 – Large Group Closeout Briefings for just $2!
[/wcm_nonmember]
---
About the Author

Nathan Ives is a StrategyDriven Principal and Host of the StrategyDriven Podcast. For over twenty years, he has served as trusted advisor to executives and managers at dozens of Fortune 500 and smaller companies in the areas of management effectiveness, organizational development, and process improvement. To read Nathan's complete biography, click here.
https://www.strategydriven.com/wp-content/uploads/LargeGroupBriefings.jpg
339
425
Nathan Ives
https://www.strategydriven.com/wp-content/uploads/SDELogo5-300x70-300x70.png
Nathan Ives
2016-06-28 10:00:55
2018-12-16 17:09:42
Business Performance Assessment Program Best Practice 15 – Large Group Closeout Briefings