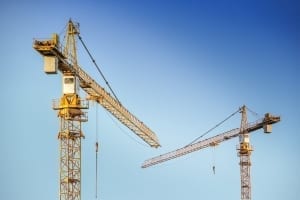 With the rising demand for construction, many people are trying their luck with the construction business. Although constructing high-rise buildings and modern houses is not a piece of cake, everything is possible with a little hard work and dedication. However, purchasing construction equipment with a small budget is out of the question.
Construction has high machinery demands that might cost an arm, especially when it comes to coughing money for cranes. The majority of businesses face this issue. Surprisingly, there is a way out for every problem. How about you hire crane services rather than purchasing cranes? Here are 10 top reasons why you need to hire crane services for your business.
1. Efficient Material Handling
Do you think manual labor is enough on construction sites? Honestly, lifting those heavy blocks of cement is not a human's cup of tea. They might lift it one by one, making it forever to complete the construction work. This is the reason why you spot cranes at every worksite; they can lift several blocks at a time and placing them where it belongs. Besides, you have an option to install tower cranes or self-erecting cranes to handle all the materials efficiently.
2. Less Time-Consuming
If it takes manual labor 15 minutes to shift material from one place to another, cranes can do it in 2 minutes. Thus, it not only saves time but makes the construction process a lot faster. At the same time, if you are thinking to get your crane, then it might take several days to install the machine. You would have to get a license, train the workers for using such heavy machinery, and follow all the safety precautions.
However, hiring crane services can help you escape all his hustle. You also have the option to hire the person who operates cranes. So, consider going with the option of crane hire.
3. Variety of Machines
Do you know there are different types of cranes? Every construction site has a different requirement for machinery and crane. If you are hiring crane services, then it exposes you to a variety of machines. You can opt for a mobile crane if you want to hoist the material or a tower crane to work on skyscrapers.
Similarly, there are loader cranes and overhead cranes for lifting heavy and different sorts of material. Believe it or not, purchasing all these machines requires a gigantic investment. Alongside being light on pockets, hiring crane services would provide you with all the machines you need.
4. No Maintenance & Repair Costs
Dealing with heavy machinery is not a child's play. Several technical glitches or engine are misfunctioning, which can halt the entire construction process. However, when you are hiring crane services, all these problems are no longer your headache. The renting company would be responsible for all services and maintenance of the cranes. If it stops working on the construction site, you only have to inform them, and they would replace it with another one, maintaining a smooth flow of work.
5. Saves Money
Some businesses look for financing options when it comes to getting machinery for their construction site. It makes sense if you require the machinery for every project. However, if you are doing this to satisfy the needs of a single project, it can land you in trouble. Alongside repayments, you have to cast away money on interest payments too, shrinking your profits significantly. Therefore, consider renting the crane every time, fulfilling your need for different machinery.
6. Escape Insurance Fees
You can't bring cranes to the site without any insurance. It involves working on heights on the top of the sky, making insurance mandatory. The ratio of accidents on construction sites is quite high, and you can't end up risking machinery you just purchased, adding another expense on your list. This is the reason why the majority of businesses hire crane services to dodge these unnecessary costs. However, getting an insurance cover for employees remains essential.
7. Promotes Quicker Processes
Honestly, loading and unloading material with the help of manual labor is possible, but it can take days. Hence, it is better to rely on machinery and equipment to fulfill these monotonous tasks. Many construction workers also develop back injuries due to heavy material lifting. Therefore, using cranes doesn't only speeds up the entire process, but motivates workers to perform efficient tasks. After all, in today's world, modern cranes can hold tons of material and while carrying it 10,000 meters high.
8. Weather Doesn't Halt Operations
Humans can't work during heavy rain showers or windy days since it is very risky to climb buildings. All these external factors can halt operations, but things are different when working with machinery. They can work in the rough and tough climatic conditions. Therefore, explore the option of hiring a crane to maintain a smooth flow of work. The operator working on the crane has a protected cabin, helping him run the crane efficiently.
9. Ensures Safety
Many construction sites face accidents due to a lack of safety measures. After all, the workers are sweating under hectic conditions while performing risky functions. Well, if you use machinery to replace this dangerous work, it would reduce the number of injuries. The workers would feel satisfied and also increases their productivity levels. Cranes are completely safe; workers work with all the safety manual and equipment, avoiding safety violations.
10. Swap with Latest Equipment
Do you see the changing technological trends? Similarly, equipment and machinery are also evolving and introducing new functions. If you are considering purchasing equipment, it is impossible to cope with the changing trends. However, while hiring cranes, you can enjoy using the latest cranes and machinery on your site. At the same time, you swap equipment easily too. For instance, you can get a high-tech crane for a high-rise building and over loader for building houses.
Wrap Up
Every business demands some risky decisions and calculations. In the construction business, it is always about getting the right equipment. Some owners are skeptical about purchasing heavy cranes and equipment while others are exploring options of renting services. Well, if you can't decide, look above to see the 10 top reasons why you need to hire crane services for your business.
https://www.strategydriven.com/wp-content/uploads/baukran-3703469_1280.jpg
853
1280
StrategyDriven
https://www.strategydriven.com/wp-content/uploads/SDELogo5-300x70-300x70.png
StrategyDriven
2020-04-14 17:00:34
2020-04-14 14:29:00
10 Top Reasons Why You Need To Hire Crane Services For Your Business