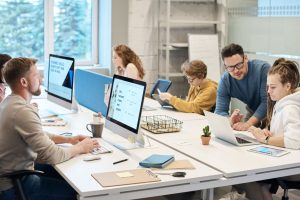 Your organization's onboarding process is the perfect opportunity to make a lasting first impression on a new employee. This process should be all about making the new team member feel welcomed and valued in preparation for their role. You will want everything to go as smoothly as possible so that you can recruit and retain the right talent. Moreover, an employee onboarding process is often the first critical factor in building an engaged and motivated workforce. A strong onboarding experience can invoke a sense of loyalty among new hires, thus improving retention rates. Today we will cover some important strategies you can implement to optimize your employee onboarding plan.
Ensure Effective Contract Management
To make onboarding simpler, it is recommended that you implement a contract lifecycle management process. This will help you streamline the creation of contracts and simplify the collection of e-signatures. Pulpstream provides comprehensive guidance on the different stages of contract lifecycle management and how you can make contract execution more efficient with automation. As a result, you will ensure that everything is done in the same way every time by offering transparent and consistent communication. A new employee will receive custom onboarding, which will make a good impression on them even before their first day.
Create A Positive Employee Experience
You will want the new employee to feel excited and ready to dive into their new role. To ensure everything starts on a positive note, the employee onboarding process should begin right after the recruitment phase. It is important that HR sends a welcome email letter to allow the employee to learn more about the company's culture. For example, it may be good to prepare information about orientation day activities, the first-day schedule, company dress code, and onboarding documents and forms. This will ensure they are prepared for their new role, as it will give them peace of mind and clarity.
Notify Other Team Members
Make sure you send an announcement to all employees prior to their first day, either in-person or via email. The announcement should include information about the new employee's role and their previous experience. Encourage other team members to welcome and assist the new colleague as they familiarize themselves with the company policies and processes. When other employees are notified in advance, they will be more prepared to offer support and make the new employee feel more confident. Alongside this, it is important to coordinate with other departments as well to provide organizational belonging.
Make Their First Day Special
It is crucial to create a sense of belonging from their first day to make sure they stay committed to the organization's goals. Take the time to plan out all activities and help them settle down by easing their worries and concerns. Prepare a formal employee orientation program and deliver presentations about the company's history, mission, vision, and values. Answer any questions that might arise on the day and ensure they feel as comfortable as possible. You can also assign an onboarding mentor who can offer valuable insight into formal and informal strategies.
Organize A Team Lunch
One of the best ways to break the ice and allow the employee to get to know other colleagues in their immediate team is to arrange a team lunch meeting. Ideally, this can happen within their first week to ensure they have time to get used to all the new faces. There is no need to even leave the office, as you can simply ask your team to bring their lunches to a conference room. Take some time to get to know them outside of the interview process to make them feel appreciated personally and professionally.
Set Up Their Workstation
As a new employee, there is nothing worse than not having access to the tools and programs you need to be successful in your role. This is why it is important to prepare for your new arrival ahead of time and make sure everything is ready to go. For example, it may be useful to set up the employee's computer, phone, and email address and order any necessary office supplies. Alongside this, a new employee should have access to software and electronic files before they begin. Disregarding this step can result in difficulties during the employee's training.
Provide Personalized Training
The first few weeks with the employee should be focused on training to help them get started in their new role. Even if the new colleague has already performed the same job function elsewhere, there still may be some differences between organizations. Therefore, it is advisable to prepare a personalized training plan to bring them up to speed. Remember to include information about key processes, company rules, expectations, and procedures to fully know what the role entails. Training should also always be tailored to the employee's individual requirements and goals.
Schedule Regular Check-Ins
Arranging check-in meetings with new employees is crucial to measuring how well they have settled into their new role. Although the exact check-in dates can be flexible depending on your company's preferences, it is common for check-ins to be scheduled 30, 60, and 90 days after the first day. Be sure to keep these meetings informal and relaxed while still promoting active dialogue. It is essential to understand the new employee's progress and their needs. Remember to review their performance and offer constructive feedback to help them identify areas for improvement. Ensure that they have the right support and resources to thrive in their role.
Follow Up And Request Feedback
Last but not least, it is important to meet with the employee even if you think they are doing well. After committing to a training plan and check-in meetings, you will need to find out how effective your onboarding process has been. Therefore, this is the perfect opportunity to learn more about the company's strategy from an employee's perspective. It may be beneficial to ask them what they found useful and what could be improved. Then you can make adjustments as you see fit and keep improving the onboarding experience for new employees in the future.
https://www.strategydriven.com/wp-content/uploads/pexels-fauxels-3184357-2.jpg
801
1200
StrategyDriven
https://www.strategydriven.com/wp-content/uploads/SDELogo5-300x70-300x70.png
StrategyDriven
2022-03-29 12:00:50
2022-03-29 04:43:08
How To Create An Effective Employee Onboarding Process