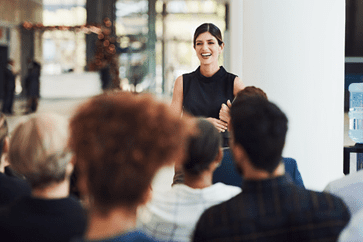 83% of corporate marketers believe that business events are more useful in driving sales than awareness. With this in mind, you can't afford to make mistakes when planning an event for your company. Although mistakes are bound to happen, they can be costly to your business.
Here are some common mistakes that can happen and how you can avoid them.
Lack of a Definite Goal for the Event
You should never start planning an event without a clear goal and objective. You need to deeply understand how the event will boost your business. Is the end goal to make employees more knowledgeable or skillful?
Once you have a goal in mind, set clear and measurable objectives, like the number of registrations you're targeting. Whatever your objective, it should be measurable and concrete. Share them with your team for brainstorming and informed decision making.
An Underwhelming Agenda
While you might have a plan for the event, it may not be what the attendees want to experience. Make sure you're delivering a life-changing experience by looking at the list through the attendees' eyes.
Questions to ask yourself include:
Are the topics in the agenda fresh and relevant
How engaging are the presenters or speakers
Is there a communication strategy in place to let the attendees know what to expect?
You'll need a mind shift to be able to pick what matters to them most.
Planning Late
One of the greatest enemies of progress is procrastination. If you want to pull off a successful corporate event, start planning as early as possible. Waiting until the last minute can bring a host of problems later and you could end up not selling half as many corporate event venue tickets as you would want to.
As soon as you set a date for the event, come up with the occasion's general scope. You also need to draw up a budget as soon as the date has been set. Book a venue in advance while you still have many options to work with. Remember, hotels and other venues tend to have many bookings all around the year.
If you plan to invite guest speakers, book their services early enough. Do your research to see what you can expect from your performers, including the entertainment band. Create a checklist, and as you make your plans, map out all the steps, and determine when they should be completed.
Not Checking the Competition
It can be counterproductive to plan an event and discover a more competitive one happening on the same date. It goes without saying that only one event will draw people in their numbers. You don't want to take chances as you don't know if that event will be yours.
Due diligence is essential to check for events scheduled on the same date as yours. Look at industry gatherings for sporting events and local events in your proximity. Once you're sure the calendar is clear, you can send out "save the date" notifications to your guests. This gives those interested in your event enough time to mark their calendars.
Final Thoughts
Organizing a corporate event is not easy without the right skill set. Sometimes, you need to engage professional event planners like MTI Events to help you pull off a successful occasion. When planning from an expert perspective, you'll cut down on these mistakes and more.
https://www.strategydriven.com/wp-content/uploads/word-image-39.png
242
363
StrategyDriven
https://www.strategydriven.com/wp-content/uploads/SDELogo5-300x70-300x70.png
StrategyDriven
2020-10-31 13:00:47
2021-10-19 19:45:12
Corporate Event Planning Mistakes to Avoid