First-ever article on Dick Clark, as a business case study. Motivating pop culture piece designed to foster better, more successful companies.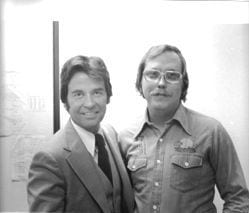 The passing of Dick Clark brought about widespread nostalgia and cultural interaction in our culture. Those of us who have known and worked with him will never forget his humor, his sense of fairness, his encouraging ways, the optimistic disposition, the gut instinct and the lasting impacts that he made on our later successes.
I started out my career by aspiring to be like Dick Clark. Thanks to great mentors, I learned to be my own best self, a visionary thinker and a repository of great case studies. I appeared on radio and TV with him, as well as on conference stages. It was he who encouraged your own leadership qualities, because your success ultimately honored him.
As a onetime radio disc jockey who evolved into a business guru, I offer this tribute to Dick Clark as a corporate and entrepreneurial study in excellence.
Dick Clark grew up working in a radio station in Utica, New York, perfecting the talk and the interest in music. He realized that music styles changed rapidly and that their cultural impact affected. When opportunity came calling, he was ready, willing and able. He replaced other DJ's as host of a local bandstand show at WFIL-TV in Philadelphia, switching his musical emphasis from big bands and easy listening music to the emerging rock n' roll. His bandstand show was a runaway hit and quickly was picked up by the ABC-TV network as a daily after-school show aimed at teens.
The success of 'American Bandstand' spawned a weekly TV music variety series from New York, 'The Dick Clark Beechnut Show,' which in turn inspired concert tours, 'The Dick Clark Caravan of Stars.' He appeared in movies, as a teacher in 'Because They're Young' and a doctor in 'The Young Doctors.' He was clean-cut, respectful and mannerly, thus bringing legitimacy to rock n' roll.
With the celebrity, he was hired to guest-star as an actor in TV shows such as 'Stoney Burke,' 'Adam-12,' 'Honey West,' 'Branded,' 'Lassie,' 'Ben Casey,' 'Coronet Blue' and 'Burke's Law.' He played the last villain on the last episode of the 'Perry Mason' weekly TV series.
The 1963 move from Philadelphia to California launched Dick Clark Productions. Though 'American Bandstand' was owned by the network, he mounted what became a 50-year span of programs that he owned, produced and nurtured, including 'The People's Choice Awards,' 'Where the Action Is,' 'Live Wednesday,' 'American Dreams,' 'The Happening,' 'New Year's Rockin' Eve,' 'Academy of Country Music Awards,' 'Super Bloopers and Practical Jokes,' 'American Music Awards,' specials, TV movies, game shows and more.
To go to his office and have meetings was like being in a museum. You sat at his desk in antique barber chairs, wrote on roll-top desks and enjoyed furnishings from nostalgic shops. Big band music played from a Wurlitzer juke box, and classic cars adorned the parking lot.
These are some of the principles that I developed myself but do credit being inspired by Dick Clark. I've taught them to others and shared with him as well:
As times change, the nature of 'nostalgia' changes. Each entertainment niche may not be your 'cup of tea,' but relating to others will create common bonds and exhibits leadership.
People are more products of the pop culture than they are of formal business training. They make strategic decisions based upon cultural memories. I would ask corporate executives to articulate core values, and they could only recite meaningful song lyrics, movie lines and quotes. That's why I developed the Pop Culture Wisdom concept, to interpolate from the cultural icons into business jargon and workable policies.
Companies and industries need to embrace change sooner, rather than becoming a victim of it later. The entertainment industry is the best at being flexible, spotting new trends, changing with the times, packaging creative concepts and leading cultural charges. Other industries could well learn from the entertainment business practices.
Applying humility and humanity helps in bringing people together. Music is something that everyone relates to. Finding common ground about the zeal and joys inherent in running a company results in better buy-in and support of the goals.
A lot of people in show business asked Dick Clark for advice. He had a lot of wise business sense, and the best came from gut instincts. My gut is usually right. If something feels wrong, then it is. If it is a good move to make, then I cite precedents as to what led to that recommendation. Trusting your gut comes from long experience, for which there are no shortcuts.
Dick Clark was good about treating the teenagers as friends and with respect. He never came across as a scolding parent but rather as a friendly uncle. Long-term business success is a function of developing stakeholders and empowering them to do positive things with your company.
Dick Clark Productions had a select list of projects. The take-back for business is to grow in consistent fashion, sustaining the down times with realistic activities.
I recommend that organizations periodically revisit their earlier successes. Learn from case studies elsewhere in the marketplace. Review what you once did correctly and how your competitors failed. It is important to link nostalgia to the future. We can like and learn from the past without living in it.
Dick Clark liked to celebrate the successes of others. I've found that reciting precedents of successful strategy tends to inspire others to re-examine their own. Here are some other lessons that he taught us:
Be a mentor and inspire others.
Learn as you grow.
Periodically celebrate the heritage.
Be inclusive.
Be ethical.
Give the public more than you need to.
7 Levels of Mentoring and Lifelong Learning:
Conveying Information. Initial exposure to the coaching process. One-time meeting or conference between mentors and mentees. The mentor is a resource for business trends, societal issues, opportunities. The coach is active listener, mentors on values, actions.
Imparting Experiences. The mentor becomes a role model. Insight offered about own life-career. Reflection strengthens the mentor and shows mentee levels of thinking and perception which were not previously available to the mentee.
Encouraging Actions. The mentor is an advocate for progress, change. Empowers the mentee to hear, accept, believe and get results. Sharing of feelings, trust, ideas, philosophies.
Paving the Way. The mentor endorses the mentee…wants his-her success. Messages ways to approach issues, paths in life to take. Helps draw distinctions. Paints picture of success.
Wanting the Best. Continuing relationship between the mentor and mentee. Progress is visioned, contextualized, seeded, benchmarked. Accountability-communication by both sides.
Advocating, Facilitating. The mentor opens doors for the mentee. The mentor requests pro-active changes of mentee, evaluates realism of goals, offers truths about path to success and shortcomings of mentee's approaches. Bonded collaboration toward each other's success.
Sharing Profound Wisdom. The mentor stands for mentees throughout careers, celebrates successes. Energy coaching and love-respect for each other continues throughout the relationship. Mentor actively recruits fellow business colleagues to become mentors. Lifelong dedication toward mentorship…in all aspects of one's life.
Truisms of Careers and Business Success:
Whatever measure you give will be the measure that you get back.
There are no free lunches in life.
The joy is in the journey, not in the final destination.
The best destinations are not pre-determined in the beginning, but they evolve out of circumstances.
Most circumstances can be strategized, for maximum effectiveness.
You gotta give in order to get something of value back.
Getting and having are not the same thing.
One cannot live entirely through work.
One doesn't just work to live.
As an integrated process of life skills, a career has its important place.
A body of work doesn't just happen. It's the culmination of a thoughtful, dedicated process…carefully strategized from some point forward.
The objective is to begin that strategizing point sooner rather than later
I'll close this tribute to Dick Clark with some of the songs from American Bandstand that have applicability to business strategy:
"Did you ever have to make up your mind? It's not often easy and not often kind. Did you ever have to finally decide? Say yes to one and let the other one ride? There's so many changes and tears you must hide." John Sebastian and the Lovin' Spoonful (1965)
"Do you know the way to San Jose? In a week or two, they'll make you a star. And all the stars that ever were are parking cars and pumping gas." Sung by Dionne Warwick. Written by Burt Bacharach & Hal David (1968)
"Don't you want me baby? You know I can't believe it when I hear that you won't see me. It's much too late to find you think you've changed your mind. You'd better change it back or we will both be sorry." The Human League (1982)
"How will I know if he really loves me? Tell me, is it real love? How will I know if he's thinking of me? If he loves me… if he loves me not…" Whitney Houston (1986)
"See the girl with the diamond ring? She knows how to shake that thing. See the girl with the red dress on? She can dance all night long." Ray Charles (1959)
"What is love? Five feet of heaven in a pony tail… the cutest pony tail that sways with a wiggle when she walks." The Playmates (1958)
"What's your name? Is it Mary or Sue? Do I stand a chance with you? It's so hard to find a personality with charms like yours for me. Ooh wee." Don and Juan (1962)
"Each night I ask the stars up above, why must I be a teenager in love?" Dion and the Belmonts (1959)
"Wouldn't it be nice if we were older? Wouldn't it be nice to live in the kind of world where we belong? Happy times together, we'd be spending. Maybe if we think and wish and hope and pray, it might come true." The Beach Boys (1966)
"I've looked at life from both sides now. Those bright illusions I recall. I really don't know life at all." Judy Collins (1968)
"There ain't no good guys. There ain't no bad guys. There's only you and me, and we just disagree." Dave Mason
"Life goes on… after the thrill of living is gone." John Mellencamp, "Jack and Diane" (1982)
"I've found the paradise that's trouble-free. On the roof's the only place I know, where you just have to wish to make it so." Sung by The Drifters. Written by Carole King and Gerry Goffin (1962)
---
About the Author

Hank Moore has advised 5,000+ client organizations worldwide (including 100 of the Fortune 500, public sector agencies, small businesses and non-profit organizations). He has advised two U.S. Presidents and spoke at five Economic Summits. He guides companies through growth strategies, visioning, strategic planning, executive leadership development, Futurism and Big Picture issues which profoundly affect the business climate. He conducts company evaluations, creates the big ideas and anchors the enterprise to its next tier. The Business Tree™ is his trademarked approach to growing, strengthening and evolving business, while mastering change. To read Hank's complete biography, click here.
https://www.strategydriven.com/wp-content/uploads/HankMoore2.jpg
333
290
StrategyDriven
https://www.strategydriven.com/wp-content/uploads/SDELogo5-300x70-300x70.png
StrategyDriven
2012-05-04 06:38:45
2015-12-19 21:17:33
The Big Picture of Business – Tribute to Dick Clark