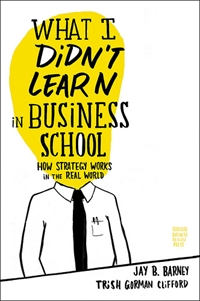 What I Didn't Learn in Business School: How Strategy Works in the Real World

by Jay B. Barney and Trish Gorman Clifford
About the Reference
What I Didn't Learn in Business School: How Strategy Works in the Real World
by Jay Barney and Trish Gorman Clifford reveals the shortfalls of the principles learned in the idealistic academic environment when applied directly to the messy, unpredictable and politically charged business world. Through a storied approach, Jay and Trish reveal the inadequacies of modeling to fully predict business outcomes and the challenge of creating alignment among leaders with differing points of view and personal agendas. They go on to illustrate the power of moving leaders past the limits of these barriers and their own collective experience to gain significant marketplace advantages and organizational prosperity.
Benefits of Using this Reference
StrategyDriven Contributors like What I Didn't Learn in Business School because it so clearly illustrates the premise for our website, namely, that while highly beneficial, academic principles must be adapted from the ideal environment of the classroom to the unpredictable environment of the shop floor in order to provide real value to any organization. Furthermore, no single model or performance measure can adequately portray a given situation in such a way that a definitive decision can be made. Rather, multiple models and measures should be employed to create a complete picture of performance from differing perspectives to enable robust decision-making.
Its well supported, fully illustrated assertion that strong business performance is achieved through the application of sound academic principles tempered by real-world business experience makes What I Didn't Learn in Business School a StrategyDriven recommended read.
https://www.strategydriven.com/wp-content/uploads/SDELogo5-300x70-300x70.png
0
0
StrategyDriven
https://www.strategydriven.com/wp-content/uploads/SDELogo5-300x70-300x70.png
StrategyDriven
2011-10-13 06:11:45
2016-05-02 18:23:39
Recommended Resource – What I Didn't Learn in Business School