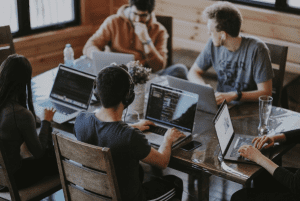 It is a common misconception that private tuition is only really useful for students who are studying towards exams and need help progressing academically.
In reality, private tutors can assist children, students or adults of any age, in a wide range of different areas. Alongside helping students or adult learners with their academic studies, private tutors can also help you to enhance both your personal and professional skill set.
Professional skills are not usually taught in 'traditional education', but most employers will expect you to have cultivated them nonetheless.
Being able to demonstrate a range of diverse workplace skills will not only boost your chances of employment, but will also allow you to thrive in the workplace once you have secured a job.
A private tutor will be able to assist you in advancing your professional skill set through using a number of different techniques.
Help you to develop and enhance your transferable skills set
From communication skills to organisation and time management, a private tutor will be able to help you get ahead at work through helping you to develop and enhance your personal and professional skill set.
Every individual has a unique set of needs, especially when it comes to what they require in order to get ahead and progress inside the workplace. Some will need help developing leadership skills, others will be struggling with interview technique and need expert advice on how to speak about themselves with confidence. Some may struggle with their English language skills and find this is holding them back, others won't have done Maths since they sat their GCSEs and find that this is hindering their chances at success.
Tutor House tutors specialise in a wide range of subjects, so whatever your needs may be – we are sure to have a tutor who can help you cultivate the skills and knowledge that you need to excel. Alternatively, enlisting the help of a Business Studies tutor could also boost your understanding of core business processes, subsequently giving you a better insight into what is expected of you as an employee.
Help you to apply your skills
A tutor will not only be able to help you better understand and develop the skills you'll be expected to exhibit in the workplace, but will also help you to actually apply these skills through practice.
For example, if you need help preparing for a job interview, then the one-to-one nature of private tuition means that your tutor will easily be able to create a mock interview setting to allow you to practice ahead of time. A mock interview will help you to prepare answers for tricky questions, improve your communication skills and help you to keep your nerves under control.
Your tutor will also provide expert advice on how to present yourself in the best possible way both in your interviews and in the workplace. You will learn to talk fluently about your goals and your interests, as well as demonstrating why a company should employ you and what you can offer them.
Alternatively, you may need help building confidence and presentation skills ahead of an important pitch you have coming up. A private tutor will be able to act as an 'audience', give you specific feedback, help you to learn to speak at the right tempo and volume and ensure that you are confident in your delivery.
Furthermore, tutors can set targeted assignments that require you to practice skills like research, data management, and presenting – all of which are vital in various business settings. Your tutor will be able to provide constructive feedback on your work and help you to build on areas of weakness, while also enhancing your confidence.
Help you to gain qualifications
Achieving a qualification relevant to your career goals or the specific field you work in, or are hoping to work in, can significantly help with career progression.
Not only will obtaining a relevant qualification help you to expand your current knowledge and understanding, but it will also allow you to further develop your professional skills, workplace manner and overall employability.
Investing time into working towards a new qualification shows both current and prospective employers what you are keen to learn and eager progress – both of which are qualities that are highly sought after, and will help you to stand out in a crowd. For example, if you want to enhance your accounting or marketing skills, then embarking on an accounting or marketing qualification is a great investment of your time and will demonstrate your commitment and passion.
However, achieving a qualification is no mean feat, and it can be especially challenging if you're trying to juggle a full-time job with studying. With a private tutor on board, you can get the help that you need to ensure success.
A tutor will work with you to ensure that you have the knowledge, skill and understanding that you need to really excel. Whichever industry you're hoping to pursue a career within, Tutor House are guaranteed to have a tutor that specialises in your desired subject area.
Your tutor will be able to provide tailored tuition sessions at a time and place that suits you – either in-person or online. This means that working adults with even the busiest schedules can receive top quality tuition that is guaranteed to boost their chances of success.
Personalised tuition
One of the biggest benefits of private tuition is that it is entirely personalised. Your tutor will work with you in order to devise a learning plan that perfectly meets your unique needs and requirements.
Your tutor will take into account your strengths, weaknesses, level of proficiency in your field and your learning style in order to ensure that sessions are tailored to you to maximise progression and ensure success.
https://www.strategydriven.com/wp-content/uploads/2019-06-19_1916.png
401
599
StrategyDriven
https://www.strategydriven.com/wp-content/uploads/SDELogo5-300x70-300x70.png
StrategyDriven
2019-06-19 12:00:52
2019-06-19 12:27:06
How a private tutor can help you get ahead at work