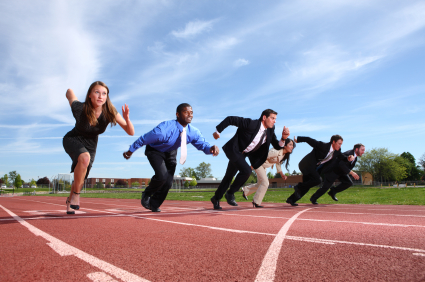 "A good plan, violently executed now, is better than a perfect plan next week."
George S. Patton (1885 – 1945)
General, U.S. Army
There is no such thing as the perfect project plan. Sometimes a project manager will find him or herself with excess resources and, as is more often the case, fewer resources than are required to complete a task. Depending on whether or not this task impacts the overall project's progression, the project manager may choose to fast track or 'crash' that portion of the project schedule's execution. In doing so, the project manager commits additional resources to the performance of the fast tracked work, whether those individuals are working overtime or are pulled from other activities in order to accelerate these project activities. Fast tracking itself is a useful tool to keep a project on schedule. It can, however, become a very dangerous practice both to the health of the project and the organization if used too frequently.[wcm_restrict plans="41158, 25542, 25653″]
Risks Associated with Fast Tracking
There exists a number of risks associated with fast tracking the performance of one or more project tasks including but not limited to:
Suboptimum completion of other project or organizational work because of the resource diversion
Personnel burnout resulting from increased working hours
Elevated project costs potentially exceeding the budget and always diminishing the initiative's overall return on investment
Therefore, frequent use of fast tracking can be terribly expense to the physical and emotional wellbeing of employees and the financial and productive health of the organization particularly if the practice is routinely exercised. While not all inclusive, the four lists below, Process-Based Warning Flags, Process Execution Warning Flags – Behaviors, Potential, Observable Results, and Potential Causes, are designed to help leaders to recognize whether they and/or their project managers are making excessive use of fast tracking. Only after a problem is recognized and its causes identified can the needed action be taken to move the organization toward improved performance.
Process-Based Warning Flags
Policies allow activities that are not on or near the critical path/chain to be fast tracked
Loose or no controls defining when fast tracking can be applied
Project management policies lack senior manager/executive sponsor notification when fast tracking is used
Ineffective or lack of a strategic/project portfolio prioritization process
Process Execution Warning Flags – Behaviors
General lack of project involvement by executives and senior managers
Senior manager/executive sponsor inattention to project schedule adherence
Frequent underestimate of the resources needed to execute on the organization's initiatives
Liberal contingency funding provided for every project to accommodate planning errors
Management push for schedule compliance regardless of overall project and organizational impacts
Leadership established expectation that workers work and/or are available after hours and during personal time (weekends, holidays, and vacation) – written or unwritten
Routine across-the-board resource cuts from initiatives particularly after they are approved or started
Potential, Observable Results
High worker burnout
Employees frequently take work home and/or continue work after hours
Employee attrition above industry norms
Frequent use of overtime
Elevated labor costs
Potential Causes
Ineffective project management governance and oversight
Low level of project management knowledge, skills, and experience among organizational leaders
Lack of activity prioritization by organizational leaders
Organizational culture intolerant of work slippage including that which has little or no impact and/or provides little or no value
Excessive 'it must be done now' attitude embraced by the organization and sponsored by its leaders
Leaders intentionally or unintentionally ignore the employee impacts and reactions to routine fast tracking
[/wcm_restrict][wcm_nonmember plans="41158, 25542, 25653″]
---
Hi there! Gain access to this article with a StrategyDriven Insights Library – Total Access subscription or buy access to the article itself.
Subscribe to the StrategyDriven Insights Library

Sign-up now for your StrategyDriven Insights Library – Total Access subscription for as low as $15 / month (paid annually).

Not sure? Click here to learn more.

Buy the Article

Don't need a subscription? Buy access to Project Management Warning Flag 5 – Fast Tracking Everything for just $2!
[/wcm_nonmember]
https://www.strategydriven.com/wp-content/uploads/FastTracking.jpg
282
425
StrategyDriven
https://www.strategydriven.com/wp-content/uploads/SDELogo5-300x70-300x70.png
StrategyDriven
2012-07-03 06:09:42
2018-10-13 22:01:31
Project Management Warning Flag 5 – Fast Tracking Everything