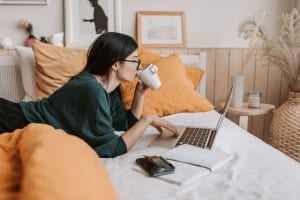 The dynamics of the corporate world are rapidly evolving with growing industries and businesses. More and more people are relying on technology and advanced solutions to carry out their jobs. And all this is set in motion to maximize productivity and work efficiency on all fronts.
Flipped learning is the part of these trendsetting practices, the new way for professionals to adapt to their work. We all know how vital training and learning is to achieve the same service level throughout the company. People rely on it to get their workforce up to speed and upgrade their skill sets to add things to their platter. Without them, the staff would be clueless sitting ducks, even when they have work on their hands.
Besides, everyone has seen how the outbreak of COVID-19 has hit this world and influenced lives. With schools and offices closed, hospitals cramped, and people fighting the battle of their lives, the only option was to work from home. Businesses had to overcome several environmental and technological challenges to adopt this idea. But luckily for the users of flipped learning, this change was convenient because most of their learning resources were already online.
The experiences of a Flipped Classroom are close to those of live interaction. People learning from it can go through the instructor's notes, find examples, ask questions, get ideas, and much more. These things let you better understand and grip over your work and function better as a team. Perhaps that's also why companies feel inclined and interested in flipped learning more than the conventional methods.
If you haven't been introduced to it yet, here are some features to get you excited. These should allow you to grasp the complete concept behind flipped learning and might even motivate you to try it yourself.
1. Video Tutorials & Lessons
Starting from the basics, instructors can use video tutorials and lessons to cover concepts and subjects. They can go for live streaming sessions with their audience or record their notes in advance for their batch to review as they continue working. That allows both parties to function independently without causing any delays.
Besides, having a video lesson is more helpful, as it offers more details about how to perform a task. There's minimal risk of making an error, and people execute their jobs more confidently. So companies are achieving more than just top-notch teamwork and cohesion when they bring flipped learning on board.
2. In-Video Picture Notes
A problem with learning from anyone online or face-to-face is that you have to take notes unless you have a photographic memory. Switching between paying attention to the speaker's words and writing things down, people fail to extract a lesson's essence. They are unable to multitask at this pace, and therefore, leave with an inadequate understanding.
With flipped learning, that is no longer a problem for individuals. They can listen to the instructors attentively and find all their notes attached to the relevant areas. That allows them to access these resources once they have understood the concepts and principles of a job. And what's even better is that if they have a portable device with an internet connection, they can access these from anywhere.
3. Search Inside Video
A problem that most people complain about with video lectures is that they struggle with finding the relevant content within a video. An hour-long lesson covers multiple concepts and various examples but has no way to navigate the video efficiently. If they want to find something specific, they will have to skip it manually until they stumble upon the right section.
For the users of a flipped classroom, that is not a problem at all. Its 'search inside video' option allows its users to jump to particular sections they need to review. They can find the content relevant to their work at an instant and use it to their requirement. That's what makes it a far efficient method.
4. Cross-Platform Access & Usage
Another one of the perks of a flipped classroom is that its users can access it from any internet-connected device. It's compatible with various platforms and browsers, making it easier to switch, access, create and edit content as per the user's convenience. Instructors can communicate with their audiences more conveniently that way and work from their home, office, or anywhere else.
Similarly, the people learning from it can do the same and learn things on the go. They won't have to worry about missing a lesson or asking questions due to an environmental hindrance. That minimizes absences and promotes convenience for both parties, making the overall practice more productive and fruitful.
5. In-Video Assessments
The next aspect that should spike your interest in flipped learning is that it offers online assessments against its teachings. Instructors can add quizzes and exercises for their audience to make the lecture interactive. It will allow them to measure their students' skills and knowledge and gauge their teaching effectiveness.
Besides, it can also help keep the learners attentive as they will expect a review of their learnings. They will foster a competitive spirit through these lectures and would want to display their growth. It will improve the overall outcomes of these classes while keeping everyone engaged in its contents.
6. Remote Access
Lastly, the highlight of using a flipped classroom is its ease of access. Anything with a decent internet connection and the necessary details to log in to a portal can do so without experiencing any difficulty. Multiple devices and browser compatibility aside, most of the contents on any subject get hosted on its servers. They are available as resources for anyone to review, as the holdings of a library. That eliminates the need for people to carry all their notes and lectures everywhere they go. All they need is a portable device with nominal computational capabilities. Anyone who is a part of this service can enjoy this and more, making a flipped classroom all the more attractive for its users.
Summary
These were the primary features and highlights of flipped learning, a trendsetting method for corporate training in the industries—people who have already signed up on its benefit from its tools and resources. At the same time, others are in the queue to get on board. Suppose you haven't heard of it already. In that case, you should explore your options with this service because delaying this opportunity will only cost you more in the long run.
https://www.strategydriven.com/wp-content/uploads/pexels-photo-4050415.jpeg
800
1200
StrategyDriven
https://www.strategydriven.com/wp-content/uploads/SDELogo5-300x70-300x70.png
StrategyDriven
2020-12-04 08:00:49
2020-12-04 02:55:22
Flipped Learning: The Trend for the Next Corporate Training