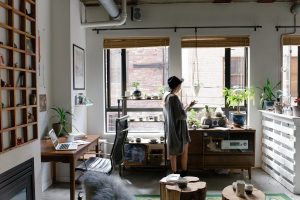 In short, yes. Over the past 50+ years, our traditional office layouts have transformed from impersonal and claustrophobic cubicles to more open-concept spaces with performance in mind. These new spaces aren't more advanced, but instead, they offer simple concepts and additions for your workers that boost their productivity.
As the Summer of 2021 draws to a close, more and more people are returning to the office after working from home. It's essential for business owners to bring the comfort and safety they felt at home back to the office. Below we'll cover various additions and adjustments you can make to your office that will positively influence your employee's productivity, creativity, and wellbeing.
Natural Light Goes a Long Way
While it may seem obvious, natural light is very beneficial for improving your productivity. According to an article by turnstone, workers who have natural light stay on-task for 15% longer than those without. It's proven that natural light improves employee's energy and creativity too.
For buildings that don't get as much natural light or windowless offices, there are solutions. Installing interior windows can break down the barrier between workspaces and allow natural light in from other areas. If that's not an option, there are several different types of natural light lamps available that can supplement your natural light needs somewhat.
Design a Better Workspace (Colors, Furniture)
It's no surprise that specific colors evoke certain emotions and feelings. From furniture to newly painted walls, there are a wealth of opportunities for adding some color to your office. In a post from LinkedIn, they suggest that certain colors provide different benefits such as:
Blue: Known to help with concentration and can be calming.
Yellow: Associated with positive emotions like happiness, excitement, and creativity.
Red: Raises your heart rate and can energize your employees.
Green: Associated with nature and can ease anxiety and encourage relaxation.
In addition, comfortable seating options and standing desks are a must. When employees are comfortable with their workspaces, they're more likely to stay at them longer. In an article by bureauone.com, they cite a study that shows that those who use height-adjustable desks were 45% more productive than those who don't. However, you shouldn't replace every desk with standing desks, but leave the option open for employees to request height-adjustable desks.
Allow Personalization
Personalization of workspaces can make a considerable difference in creating a connection to the workplace. There are effortless ways to personalize your workspace, from screensavers to knickknacks, company photos, and more. The idea is to make yourself more comfortable in your surroundings. Helping your employees feel more relaxed is a common theme of this article because they are more productive. Awards, certificates, and other forms of recognition are also good ways to remind your employees that they're appreciated and that the team is proud of their accomplishments.
Plants
Due to the nature of office work, employees can be disconnected from nature. Plants have been proven to have many benefits for office workers. According to an article from ciphr.com, productivity increases by 15% when there are plants in the workplace. In addition, they clean the air, reduce noise, and in some cases, can lower the chance of sickness. By far, this is one of the easiest ways to boost productivity.
Investing in a New Office Space
According to an article from FNRP, around $38.9 billion in office space construction happened in 2020. Even though that number is down from 2019, it still shows a huge market for new office space! If your business is nearing the end of its current office lease, or if you're looking to upgrade your space, there are definitely options. More modern workspaces may be more desirable for employees returning from remote work that are used to more relaxed environments.
If 2020 and 2021 have taught us anything, it's that workers do not need traditional work environments to be productive. As employees ease back into office life, it may be beneficial for you to move to a more ergonomic office space or consider communal workspaces like co-working spaces.
No matter the size of your company, office, or sales you do, your employees matter. It's essential in our conversion back to in-person work that we bring our employees back into safe, productive, and relaxing environments for them to work in. These tips and many more like them are guaranteed to improve productivity, and your employees will appreciate the office facelift.
---
About the Author
Veronica Baxter is a writer, blogger, and legal assistant operating out of the greater Philadelphia area.
https://www.strategydriven.com/wp-content/uploads/home-2618511_1280.jpg
853
1280
StrategyDriven
https://www.strategydriven.com/wp-content/uploads/SDELogo5-300x70-300x70.png
StrategyDriven
2021-08-29 07:00:52
2021-08-29 02:17:44
Can You Improve Work By Improving Your Office Space?