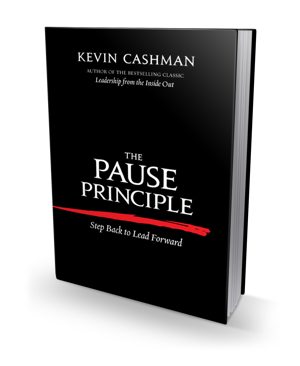 The Pause Principle: Step Back to Lead Forward
by Kevin Cashman
About this Book
The Pause Principle: Step Back to Lead Forward
by Kevin Cashman reveals to readers the secret to dealing with their insatiable compulsion to do more and more within any given day. Kevin shows that instead of simply doing more, professionals must learn to stop, reflect, and move forward in a deliberately different manner in order to achieve more. He goes on to provide the insights and tools for pausing to accomplish more in several key areas including:
Personal leadership
Employee development
Innovative culture
Each section is concluded with a summary of the 'Pause Practices' needed to excel in that area as well as a 'Pause Point' containing provocative questions for visioning the future you are seeking to achieve.
Benefits of Reading and Using this Book
StrategyDriven Contributors agree that today's fast paced world compels professionals to act with a speed that limits deliberate consideration. Such restrictions heighten the risk of error, poor decisions, and deteriorating health. With the never ending push to do more with less, this condition is not likely to change soon.
The Pause Principle fills a gap within today's leadership training. Seldom are leaders taught the value of and methods to slow down. Kevin provides actionable methods for professionals to constructively pause; using this time for valuable contemplation, innovation, and planning so to truly achieve more with less rather than at the expense of ones personal life and health.
To some extent, all professionals are decision-makers and quality decisions require deliberate contemplation. The Pause Principle reminds us of the importance of pausing so to apply the knowledge and experiences necessary for good decision-making – decision-making that leads to innovation and growth.
For its sound, immediately implementable actions promoting excellence by slowing down, The Pause Principle is a StrategyDriven recommended read.
https://www.strategydriven.com/wp-content/uploads/SDELogo5-300x70-300x70.png
0
0
StrategyDriven
https://www.strategydriven.com/wp-content/uploads/SDELogo5-300x70-300x70.png
StrategyDriven
2012-12-24 06:45:29
2012-12-09 17:50:04
Recommended Resources – The Pause Principle