The Opportunity
Every day, I see businesses struggling to achieve high levels of long-term performance. Upon scrutiny I often find that they have – on paper – excellent and well thought out strategic plans. Their shortcomings are normally in the applications of the strategic plan and I find they usually fall into one of three areas; I call them gaps: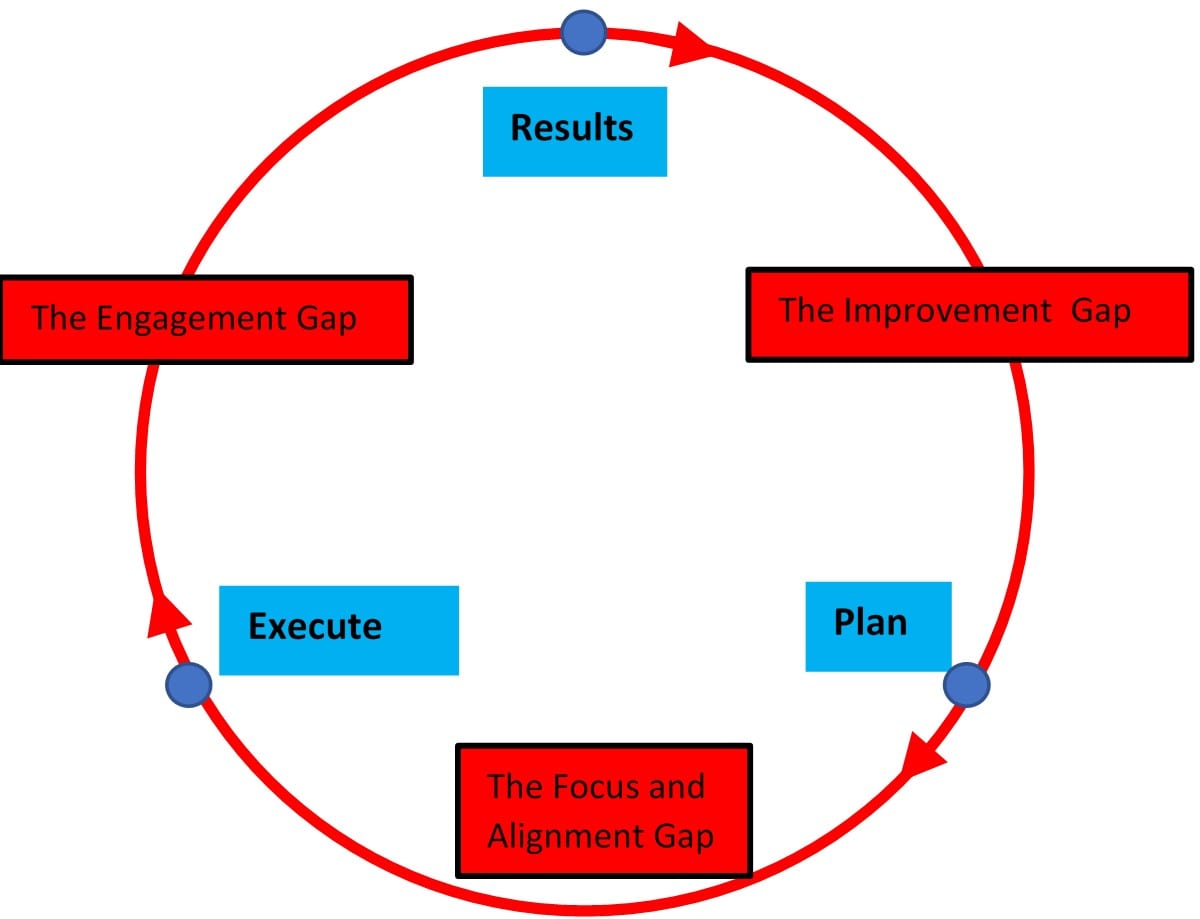 As they seek to improve on their year to year performance, I find many firms ardently working on the focus and alignment gap. Yet the improvement in their results do not seem to mirror their efforts – not at all. First, since the advent of Hoshin Kanri (HK) planning firms have found an excellent model to achieve focus and alignment both vertically and horizontally, throughout their entire firm. HK planning can be a very effective technique, even if not practiced fully as taught by Yoji Akao. Second, by any objective measure, the greatest opportunity to improve results is achieved by closing the Engagement Gap. Typical engagement levels across the US are in the 30% range and for manufacturing they are even lower, around 25%. Since most firms are in the 25-30% range and world class is 75% engagement, the gulf between what is typical and what is attainable is huge. The engagement gap is the target rich environment for improvement that firms need to exploit if they wish to attain long-term, strong performance.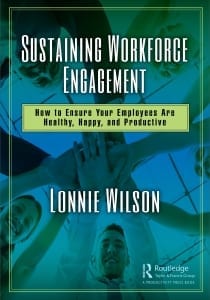 What Is The Engagement Profile?
Gallup has defined 3 categories of engagement: the "engaged"; the "not-engaged"; and the "actively disengaged". The engaged are those people who are moving & shaking, making improvements, and genuinely care about what goes on at the business. This is around 30% of the entire work population. The "not-engaged" are doing what is necessary, they follow all the rules – but not much else. They are often working in a fog and seem to be sleep-walking their way through the day. They comprise around 52% of the work population. Then there are the "actively disengaged". These are the people who might be fighting to stay on the payroll – or not. Regardless they are resistive, contrary and fighting the system at every turn in the road. They comprise 18% of the workforce.
Just What Is Engagement?
There are two commonly held management paradigms about engagement which are widely held, but unfortunately, they are both wrong:
Engagement is equal to hard working and
Engagement is a "worker thing"
Engaged workers have three very salient qualities. First, they are physically committed, so they are hard working. They have body commitment. Second, they are intellectually committed so they are actively working to make improvements to the process and the product. They have head commitment. Third, they are interested in the business and care that it succeeds. They have heart commitment. Being engaged in the workplace encompasses hard work but it goes well beyond that.
As for engagement being only a worker thing – as if the supervisors, managers and denizens of the C-suite were naturally engaged – is a myth. Although management engagement is somewhat higher, at 35% it is nowhere near world class levels. In most firms, there is ample improvement room for everyone.
What's The Appropriate Response?
With your business in need of an infusion of "whatever it takes to succeed" you need look no further than improving your engagement. With 70% either not-engaged or actively disengaged, you clearly have a target rich environment. And just how do you capture that? The answer is technically simple but operationally has proven to be a major problem to many. To get employees engaged it is as simple as management making sure that all people:
1. Know what to do
2. Know how to do it
3. Have the resources to do it
And 4, that management focus on creating an environment where it is possible for people to perform.
Sounds Simple? Think You Are Already Doing This?
If you believe you and your firm are accomplishing this simple list of 4 items above, then why is your firm not attaining long-term, strong performance? If you take a cold, hard, dispassionate and introspective look at that deficiency, it is virtually impossible to not find needed improvement in one or more of the categories above.
Give the 4 items above your management attention and you'll have not only a healthy, happy and productive workforce, but strong long-term performance as well.
---
About the Author

Lonnie Wilson is the author of Sustaining Workforce Engagement: How To Ensure Your Employees Are Healthy, Happy, And Productive and founder of Quality Consultants where clients include firms in manufacturing as well as the fields of education, healthcare and other service sectors. Quality Consultants serves small firms as well as Fortune 500 firms in North, South, Central America, and China.
For more information, please visit www.qc-ep.com.
https://www.strategydriven.com/wp-content/uploads/SustainingWorkforceEngagement.jpg
2571
1800
StrategyDriven
https://www.strategydriven.com/wp-content/uploads/SDELogo5-300x70-300x70.png
StrategyDriven
2019-05-04 20:00:59
2019-05-04 22:29:22
Engagement in the Implementation of Strategic Intent