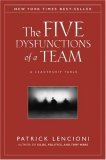 The Five Dysfunctions of a Team: A Leadership Fable

by Patrick M. Lencioni
About the Reference
The Five Dysfunctions of a Team: A Leadership Fable
by Patrick M. Lencioni examines five obstacles to effective teamwork. Focused on the executive team, Mr. Lencioni illustrates the harmful effects diminished teamwork has on an organization's effectiveness. He then prescribes actions that can be taken to overcome these obstacles thereby increasing overall organizational performance.
Benefits of Using this Reference
StrategyDriven contributors believe that an organization can only perform effectively if there exists a cohesive, aligned, action-oriented executive team guiding it. We like The Five Dysfunctions of a Team
because it highlights the common barriers to effective teamwork and an actionable process for overcoming these barriers. While the process presented focuses on an organization's executive team, we believe the same principles can be used to improve teamwork at all levels of the organization. Additionally, Mr. Lencioni's recommended actions support what StrategyDriven contributors believe is key to sustained, superior success; shared vision, focus, and commitment.
As a business novel, The Five Dysfunctions of a Team
presents its principles for improved teamwork through a believable, vividly illustrated, and easily related to story of an organization's struggle to improve performance. Many of the best practice recommendations found on the StrategyDriven website compliment the actions prescribed in The Five Dysfunctions of a Team
; making this book a StrategyDriven recommended read.
https://www.strategydriven.com/wp-content/uploads/SDELogo5-300x70-300x70.png
0
0
StrategyDriven
https://www.strategydriven.com/wp-content/uploads/SDELogo5-300x70-300x70.png
StrategyDriven
2007-08-26 16:21:31
2015-09-17 23:25:57
Recommended Resource – The Five Dysfunctions of a Team