Do your critical improvement activities seem to languish? Are low priority tasks being completed while important issues remain unresolved?
Implement the out-of-the-box program that drives high priority tasks to completion by ensuring management focus and organizational resources are dedicated to addressing your most pressing challenges.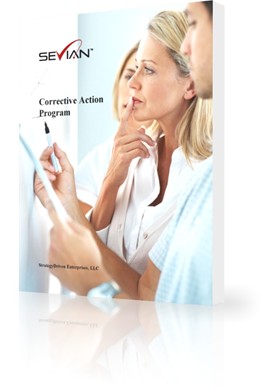 An effective corrective action program provides a single repository for recording the details associated with adverse events and work/service requests.
The Sevian Corrective Action Program includes all of the tools and information needed to immediately establish a robust, best practice corrective action program providing a consolidated view of issues and requests and enabling the collective prioritization, resourcing, and monitoring of your organization's response activities.


Sevian Corrective Action Program Product Abstract
Program Document
Product ID: CAP-EP-15V01R02C02
Date Published: August 2015
Document Type: Executing Procedure
Document Length: Approx. 300 pages
File Type: Adobe PDF (.pfd)
Program Training
Introductory Training: 1 day, conducted onsite for up to 15 trainees
Program Implementation Support
Facilitated Condition Report Development and Processing: 4 days, conducted onsite, and supported by 1 Sevian Business Advisor
1. Sevian Business Programs are customized to your organization's specific attributes. As such, your customized program will be delivered 2 – 4 weeks following receipt of requested organizational data.
2. StrategyDriven maintains strict confidentiality of client data in accordance with our Confidentiality Agreement policy.
SCHEDULE A SEVIAN CORRECTIVE ACTION PROGRAM REVIEW MEETING