An organization's evaluation and control program is a data gathering and action initiation mechanism. This program monitors the external business environments, the internal performance of business units, processes, and individuals, and the output products and services of the organization. Once collected, data is processed to present a picture of the company's overall performance and to trigger actions in response to conditions representing opportunities or threats.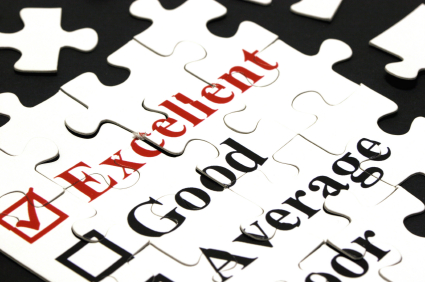 The evaluation and control program is comprised of several component processes that monitor performance on a continuous, periodic, and event driven basis; driving action when necessary. Component processes include:
organizational performance measurement system (continuous and periodic)
external environmental monitoring program (continuous and periodic)
condition reporting/corrective action program (event driven)
business performance assessment program (periodic and event driven)
benchmarking (periodic)
Outputs from the various monitoring processes are often combined to create a richer understanding of organizational performance relative to both internal performance standards and external benchmarks. Synthesized data drives actions on a day-to-day operational basis and serves as input to the strategic planning process. When predefined thresholds are reached or exceeded, action is prompted to take advantage of opportunities or mitigate threats representing a risk to the business or its operations.
Focus of the Evaluation and Control Program Forum
Evaluation and control program components play a key role in an organization's learning and growth efforts. They not only identify improvement opportunities, they also identify internal and external best practices that can be used to better existing processes. This continuous growth mechanism is critical to an organization seeking to maintain and advance its position in the marketplace. Materials in this forum are dedicated to discussing the leading practices of companies successfully executing an evaluation and control program in support of strategic business planning and tactical business execution. The following articles, podcasts, documents, and resources cover those topics critical to an effective evaluation and control program:
Articles
Total Access StrategyDriven Insights Library Subscribers can access all of the articles listed below. Sample Subscribers can access those articles annotated as [SL]
Not yet a StrategyDriven Insights Library Subscriber? Click here to learn more.
Principles Articles
Best Practices Articles
Warning Flags Articles
StrategyDriven Podcasts
StrategyDriven Podcast – Special Edition
Resources
Whitepapers
Models
The StrategyDriven Team
Headquartered in Acworth, Georgia, StrategyDriven provides insightful business performance improvement advice to business leaders in Atlanta, the Southeast, throughout the United States, and around the World. Our world class experts are recognized leaders in their chosen fields.
To learn more about StrategyDriven's Expert Contributors, click here.