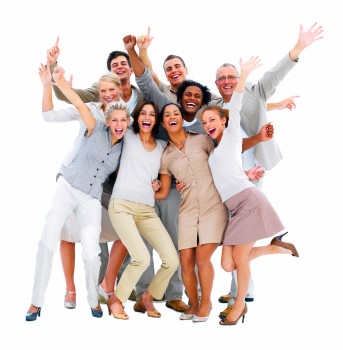 True employee engagement occurs when individuals apply the full measure of their creative energy and talent to performing work that wholly supports achievement of the organization's goals. And while perfect engagement is not achievable, our experience and the Gallup Organization's research reveal that a clear, forward-looking strategy aligned with the organization's vision, values, and mission goals and translatable to the day-to-day activities of all organization members combined with inspiring leadership is absolutely essential to maximizing employee engagement.
The StrategyDriven Employee Engagement Center of Excellence provides the actionable tools and techniques executives and managers can use to improve their employees' level of engagement, thereby increasing productivity and profitability. Our many articles and podcasts cover those topics critical to improving employee engagement including:
Management and Leadership: People join companies and they leave managers. Leaders are therefore central to the engagement and retention of the employees under their charge and throughout the organization. These individuals set the tone and the standards for the way in which all organization members behave and interact; truly determining whether or not employees will give the fullest of their time, talent, and energy to the success of the company.
Diversity and Inclusion: Diversity and inclusion exists when members of an organization act in a manner that recognizes and respects individual similarities and differences such that employees feel they and their work are valued and meaningfully contribute to the mission of the organization. Only when an organization's culture – its collectively shared values and beliefs – embraces diversity and acts inclusively of all employees will true engagement be realized.
Gallup Organization research reveals that organizations with world-class employee engagement are 18 percent more productive and 12 percent more profitable than industry competitors with bottom quartile performance! In fact, top decile companies realize 3.9 times the Earnings Per Share (EPS) growth rate compared with low engagement performers within their industry.
Organizational Accountability: Organizational accountability exists when all members of the workforce individually and collectively act to consequentially promote the timely accomplishment of the organization's mission. Through organizational accountability, employee actions are aligned to the optimal achievement of the organization's vision, values, and mission goals.
Decision-Making: An individual's decisions reflect his or her beliefs and values. Therefore, credibility of the organization's vision, values, and mission goals depends largely on the management decisions exemplifying these principles. Maintaining credibility requires strong principles-based reinforcement particularly when decisions affect cost, production, and schedule. When management's decisions consistently reinforce the organization's vision, values, and mission goals, employees will also actively engage to achieve these objectives. When decisions place cost, production, schedule, or ambition serving goals ahead of the organization, employees will become cynical and commitment and engagement will wane.
Business Strategy: A clear, forward-looking strategy, translatable to the day-to-day activities of all organization members, is critical to realizing success in today's fast paced market environment. Not only does a compelling, well executed strategy align and engage individuals to a common purpose, it ensures that purpose best serves the organization's vision, values, and mission goals.
Articles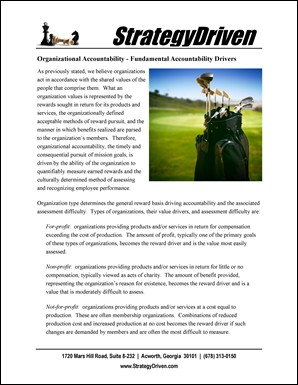 Management and Leadership
Diversity and Inclusion
Organizational Accountability
Decision-Making
Business Strategy
StrategyDriven Podcasts
StrategyDriven Podcast
Management and Leadership
Business Strategy
StrategyDriven Podcast – Video Edition
StrategyDriven Podcast – Special Edition
Management and Leadership
Diversity and Inclusion
Organizational Accountability
Business Strategy
StrategyDriven Leadership Conversation Podcast
Documents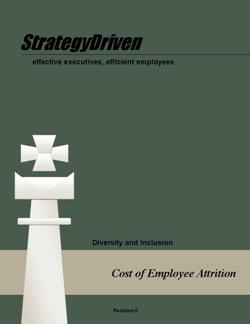 Whitepapers
Models
Tools and Templates
Recommended Resources
Books
A special gift for StrategyDriven readers…
We are pleased to announce that Michael Lee Stallard has made the electronic version of his book, Fired Up or Burned Out: How to Reignite Your Team's Passion, Creativity, and Productivity, available for download at no cost to our readers. Simply click on the link above to download your copy of this remarkable book on how to better engage employees; igniting their creativity, imagination, and spirits to the success of the organization.
Periodicals
Training Courses
An organization's leaders set the tone and standards for the way in which all members behave and interact; truly determining whether or not employees will give the fullest of their time, talent, and energy to the success of the company. As well as learning these skills on the job, one can also attend a university or college degree program to acquire these skills. Find out how you can learn management and leadership skills through accredited online universities.
Solange Charas joined TalentScope in 2008 as the Global VP of Pre-Sales for the group. Prior to her joining TalentScope, she held several top level HR positions including CHRO of Praetorian Financial Group, SVP, Head of Human Resources for Benfield Group, and Global Head of Human Resources for Havas Advertising. In these roles she was responsible for all aspects of HR for these three organizations. Ms. Charas' prior professional consulting experience includes many senior-level positions with companies such as Arthur Andersen, Ernst & Young LLP, and Towers Perrin. Ms. Charas served as a chairperson of the Remuneration Committee 2005 to 2009 for NASDAQ-traded Able Energy.

Lisa Orrell, The Generation Relations Expert, is an in-demand corporate speaker, consultant, and professional Leadership & Career Coach for Millennials. She is the author of the award-winning book Millennials Incorporated
, and her new book, Millennials into Leadership
, was just released on Amazon and praised with 5 star reviews. She has also been featured by countless media, such as: MSNBC, ABC, NPR, The NY Times, Wall Street Journal, BNET.com, FoxBusiness.com and Human Resource Executive. For more info about Lisa's seminars, keynotes, workshops, coaching, and books, visit: www.TheOrrellGroup.com. People also follow Lisa's insights on Twitter @GenerationsGuru.

Diana McLain Smith, author of Divide or Conquer: How Great Teams Turn Conflict into Strength
, is a partner at the Monitor Group, a global management consulting firm and founding partner of Action Design, a small firm specializing in organizational learning and professional development. For the past 25 years, Diana has advised leaders and their teams on how to build relationships strong enough to master their toughest challenges. She has taught courses and delivered lectures at the Harvard Law School, the Harvard Graduate School of Education, and Boston College's Carroll School of Management. To read Diana's full biography, click here.

Tony Simons, author of The Integrity Dividend
, is an Associate Professor at Cornell University where he teaches organizational behavior, negotiation, and leadership. Tony is also a business consultant and speaker who focuses on trust in leaders, executive team member trust, and trust in supply chain relationships. To read Tony's full biography, click here.

Michael Gurian, New York Times best selling author of Leadership and the Sexes
, is co-founder of the Gurian Institute, a training organization focused on helping corporations, educators, parents, and communities understand of how the male and female brain operate differently. He has spearheaded a national effort to provide communities and corporations with training in brain based gender issues. Michael's pioneering theory has been featured in leading national media including The New York Times, Washington Post, USA Today, Time, and Newsweek. To read Michael's full biography, click here.

Steve Kerr, author of Reward Systems
, is Senior Advisor at Goldman Sachs, where as Chief Learning Officer he created Pine Street, the firm's distinctive leadership development organization. Prior to joining Goldman Sachs, Steve was the Chief Learning Officer at General Electric, where he led and expanded that organization's world renowned Crotonville learning center. He has also served on the business school faculties at Ohio State University, the University of Michigan, and the University of Southern California. To read Steve's full biography, click here.

Susan Bloch, co-author of How to Manage in a Flat World
, has coached top teams in many of the FTSE100 and Fortune 500 companies across the globe over the past 20 years. She is currently Chief Learning Officer at the Aditya Birla Group. Prior to that she worked at Reliance Industries in the Retail Division, as Chief Culture Officer. Before coming to India she was Partner and Head of Thought Leadership at Whitehead Mann in London where she was operating as an executive coach, working with executive teams and conducting board effectiveness reviews. Previously she was global head of executive coaching for the Hay Group. A Chartered Psychologist, Susan has co-authored, How to Manage in a Flat World
, Employability, and Complete Leadership and has produced a number of research publications.
Philip Whiteley, co-author of How to Manage in a Flat World
, is an author and journalist, specializing in management, particularly the areas of leadership, motivation, and strategic people management. He has written numerous articles for The Times, Personnel Today and Coaching at Work among other titles, and has appeared on BBC Newsnight discussing the portrayal of the workplace in the media. He is author of People Express, Motivation, Unshrink the People and Complete Leadership and his books have been translated into six languages. Now based in the UK, Philip has previously worked in Latin America.

Garry Ridge, co-author of Helping People Win at Work
, is President and CEO of the WD-40 Company, the San Diego, California based maker of the ever-popular WD-40, as well as the Lava heavy duty hand cleaners, Carpet Fresh, and 2000 Flushes household cleaning products. Garry teaches leadership, talent management, and succession planning at the University of San Diego's Executive Leadership program and in 2003 was named Director of the Year for Enhancement of Economic Value by the Corporate Directors Forum. A native of Australia, he has served as national Vice President of the Australian Institute and the Australian Automotive Aftermarket Association. To read Garry's full biography, click here.
Roxanne Emmerich, author of Thank God It's Monday!
, is President and CEO of the Emmerich Group. A member of the National Speakers Hall of Fame, she is listed by Sales and Marketing Management magazine as one of the 12 most requested speakers in the country for her ability to transform negative workplace performance and environments into "bring it on" results-oriented cultures. Roxanne has been featured hundreds of times in leading publications on topics such as leadership for results, employee engagement for bottom AND top-line improvement, profit-rich growth strategies, and a multitude of other workplace breakthrough issues. To read Roxanne's full biography, click here.

Omar Khan, author of Liberating Passion
, is the Founder and Senior Partner of Sensei International, a global leadership development firm serving clients in the Americas, the United Kingdom, Singapore, Dubai, and South Asia. Omar has served as a trusted advisor to the leaders of companies including 3M, American Express, The Ritz-Carlton, Microsoft, Motorola, and Hewlett-Packard. His articles have been featured in the Washington Post, Consulting News, Strategy and Leadership, Personal Excellence Magazine and many others. To read Omar's full biography, click here.

Ken Blanchard, author of Leading at a Higher Level
, is Chief Spiritual Officer of The Ken Blanchard Companies, a global leader in workplace learning, employee productivity, leadership, and team effectiveness. Ken has had a profound impact on the practice of management around the world. His bestseller, The One Minute Manager
, has been published in 27 different languages and sold 13 million copies. His 17 business bestsellers include Raving Fans: A Revolutionary Approach To Customer Service
, High Five! The Magic of Working Together
, and The Secret: What Great Leaders Know – And Do
. To read Ken's full biography, click here.

Tammy Erickson, author of What's Next, Gen X?
, is President of The nGenera Innovation Network, a thought leader in enterprise collaboration; providing hundreds of global corporations with key insights and senior advisory services focused on collaboration strategy, enterprise engagement, and enabling technologies. Tammy's compelling views of the future are based on extensive research on changing demographics and employee values and, most recently, on how successful organizations work. She is an award winning author; having coauthored five Harvard Business Review articles, including the McKinsey Award winner It's Time to Retire Retirement and the book Workforce Crisis: How to Beat the Coming Shortage of Skills And Talent
. To read Tammy's full biography, click here.

Lynne Lancaster is one of today's foremost cultural translators. An expert on the generations, she is co-founder of BridgeWorks, a company that advises leaders, managers, and employees on how to conduct business more successfully by bridging generation gaps at work and in the marketplace. Her keynote speeches and workshops have enlightened and entertained high level audiences from many of America's best companies, including 3M, American Express, Best Buy, Citigroup, Coca-Cola, Lockheed Martin, and Wells Fargo, as well as from numerous public sector and nonprofit organizations. To read Lynne's full biography, click here.

David Stillman is co-founder of BridgeWorks and one of the youngest keynote speakers to hit the national circuit. He co-authored the best selling business book, When Generations Collide
, with Lynne in 2002. David has appeared nationally on CNN, CNBC, and the Today show and has been featured in such prestigious publications as TIME magazine, Entrepreneur, The New York Times, and USA Today. To read David's full biography, click here.

Nilofer Merchant, author of The New How
, is Chief Executive Officer of Rubicon Consulting, a strategy and marketing consultancy designed specifically to serve the needs of technology companies. Nilofer has honed her unique collaborative approach to solving tough business problems while working with and for companies such as Adobe, Apple, Nokia, and HP. To read Nilofer's complete biography, click here.
Dave Esler, co-author of The Pursuit of Something Better
, is a Principal at Esler Kruger Associates, a consulting firm that for more than 20 years has helped organizations and their leaders become more effective. Dave has a corporate background in communications and human resources from Metropolitan Life and Nortel Networks and several years of consulting experience. He is the author of many articles on a variety of business topics.

Michael Lee Stallard, author of Fired Up or Burned Out
, is co-Founder and President of E Pluribus Partners, a consulting firm specializing in helping leaders create 'Connection Cultures' to form strong bonds among the management, employees, and customers of an organization. Michael's work has been featured in The Wall Street Journal, The New York Times, Leader to Leader, Human Resource Executive, and Fox Business Now. He has spoken at conferences organized by The Conference Board, GE, Google, NASA, Johnson & Johnson and Yale-New Haven Hospital. To read Michael's full biography, click here.

Frank McIntosh is author of The Relational Leader
. During his 36 year career, Frank has worked with many of the most recognized companies and executives in the world. He has provided consulting services for peers across the country and helped initiate Junior Achievement programs in Ireland, the Ivory Coast, Oman, the United Arab Emirates, Bahrain, and Uzbekistan. Frank was inducted into the Delaware Business Leaders Hall of Fame in October 2008, one of 38 individuals so honored and the first not-for-profit executive to receive this distinction in Delaware's 300 year business history. To read Frank's complete biography, click here.

Susan Bagyura is author of The Visionary Leader
. With over twenty-five years of sales, marketing, and entrepreneurial experience, Susan works with clients to attract, motivate and develop their employees, starting with the leadership team and then going throughout the organization. Her coaching and consulting practice is centered on helping small businesses grow by increasing sales and profits, improving communications, and reducing staff attrition. To read Susan's complete biography, click here.
Florence Stone is editorial director for AMA and editor of MWorld, AMA's quarterly membership journal. She is the author of Coaching, Counseling & Mentoring
, The Manager's Question and Answer Book
and The Essential New Manager's Kit
.

Diane Katz is author of Win at Work!
and President of The Working Circle, a management consultancy providing organizational development, human resources, and team building training and coaching. For over 15 years, Diane has helped executives and managers in manufacturing, construction, technology, healthcare, government, and nonprofits better deal with workplace conflict using her unique, 8-step non-confrontational method, The Working Circle. To read Diane's complete biography, click here.

Jon Gordon is a consultant, keynote speaker, and the international bestselling author of Soup: A Recipe to Nourish Your Team and Culture
, The Energy Bus: 10 Rules to Fuel Your Life, Work, and Team with Positive Energy
, The No Complaining Rule: Positive Ways to Deal with Negativity at Work
, and Training Camp: What the Best Do Better Than Everyone Else
. Jon and his books have been featured on CNN and NBC's Today show, as well as in Forbes, Fast Company, O, The Oprah Magazine, The Wall Street Journal, and The New York Times. He has worked with such clients as the Atlanta Falcons, the PGA Tour, Northwestern Mutual, JPMorgan Chase, and Publix Supermarkets. To read Jon's complete biography, click here.

Jeff Kortes is known as the 'No Nonsense Guy.' He is the President of Human Asset Management LLC, a human resource consulting firm specializing in executive search and leadership training. He has trained hundreds of first-line supervisors, managers, and executives during his career. His approach to training is no-nonsense, and practical.

Jeff is also a member of the National Speakers Association and a regular speaker on the topics of retention, recruiting and leadership. To read Jeff's complete biography, click here.

Helanie Scott has driven stunning leadership and cultural transformations for an impressive list of organizations including: Dr. Pepper, Reuters, Fluor, Ericsson, PepsiCo and more.

Raised in a small, South African mining town, by the age of 21 Helanie had set out on her own in Johannesburg, learned the ropes of the big city, and purchased the business that hired her. She emigrated to Canada and then to the United States, researching and studying leadership and organizational development, and growing her Align4Profit consulting firm. To learn more about Helanie, click here.
Julie Bowen is a freelance writer and full-time mom. After graduating college, she put a lot of effort into her career as a businesswoman with several successful enterprises, but when motherhood came along, she decided it was time to pull back and take up her other passion, writing. Now she writes about business and finance and finds her work-life balance far more enjoyable. When not working and caring for her children, she likes to go for long walks with her dogs, though she is considering using Rollerblades so they can pull her.