Advancement, transfer, retirement, resignation, and termination are all causes of position vacancies. Regardless of the reason for or timing of a position opening, the organization must continue to function through the subsequent transition. Organizations proactively positioning themselves for personnel changes maintain a higher degree of business continuity; realizing a shallower and shorter productivity dip and pursuing performance improvement more rapidly.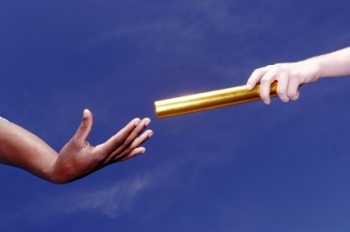 Effective succession and succession planning processes enable smooth transitions of power and operational continuity. Performed well, these processes help ensure the proactive identification and development of an adequate number of candidates to fill potential vacancies, careful selection of the right replacement, thorough preparation of the selectee for his or her new role and organization members to well receive the successor, and advanced provisions to support the entrant with the post transition coaching needed for their and the organization's success.

Focus of the Succession and Succession Planning Forum
Materials in this forum are dedicated to discussing the leading practices of companies that successfully execute succession and succession planning processes; maximizing the new entrant's probability of success and the organization's operational continuity. The following articles, podcasts, documents, and resources cover those topics critical to effective leadership succession.
Articles
Total Access StrategyDriven Insights Library Subscribers can access all of the articles listed below. Sample Subscribers can access those articles annotated as [SL]
Not yet a StrategyDriven Insights Library Subscriber? Click here to learn more.
Best Practices
StrategyDriven Podcasts
StrategyDriven Podcast – Special Edition

The StrategyDriven Team
Headquartered in Acworth, Georgia, StrategyDriven provides insightful business performance improvement advice to business leaders in Atlanta, the Southeast, throughout the United States, and around the World. Our world class experts are recognized leaders in their chosen fields.
To learn more about StrategyDriven's Expert Contributors, click here.