Implement the turnkey program that drives the reinforcement of work priorities and performance standards. When managers personally observe performance behaviors and provide immediate feedback, employee engagement improves and lasting change occurs that has been found to consistently net 18 percent greater efficiency and 12 percent greater profitability. Just imagine what it might do for you. 1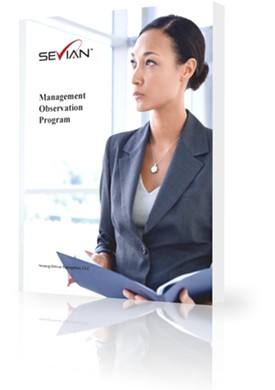 Management observations serve as an effective performance assessment and reinforcement tool to achieve long-term improvement.
The Sevian Management Observation Program provides all of the tools and information needed to establish a robust, best practice observation program guiding critical assessment of individual performance.


Sevian Management Observation Program Product Abstract
Program Document
Product ID: MOP-EP-15V01R02C02
Date Published: August 2015
Document Type: Executing Procedure
Document Length: Approx. 300 pages
File Type: Adobe PDF (.pfd)
Program Training
Introductory Training: 1 day, conducted onsite for up to 15 trainees
Program Implementation Support
Facilitated Observations: 4 days, conducted onsite, and supported by 1 Sevian Business Advisor
1. Employee Engagement: What's Your Engagement Ratio, Gallop Consulting, 2008-2010.
2. Sevian Business Programs are customized to your organization's specific attributes. As such, your customized program will be delivered 2 – 4 weeks following receipt of requested organizational data.
3. StrategyDriven maintains strict confidentiality of client data in accordance with our Confidentiality Agreement policy.
SCHEDULE A SEVIAN MANAGEMENT OBSERVATION PROGRAM REVIEW MEETING