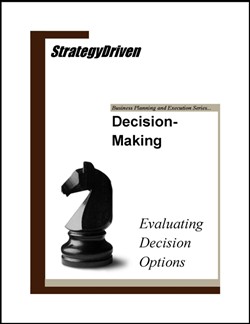 Credibility of the organization's mission and values depends largely on management decisions that exemplify them. Maintaining credibility includes strong reinforcement of mission goals and organizational values when decisions are made that affect cost, production, and/or schedule.
Consistency between leadership's decisions and the organization's mission and values is vital in light of today's growing production pressures. Whereas personnel attitudes and actions reflect those of their supervisors, all executives and managers must continuously reinforce their commitment to the organization's mission and values, particularly through their decisions. It is only when personnel perceive management's commitment as unwavering that their day -to-day decisions and activities will align with the organization's overarching objectives.
In this whitepaper, you'll learn the principles of choosing between two or more complex options; to select the option containing the mix of characteristics that will most optimally achieve the desired result.
Click here to download your copy of Evaluating Decision Options.