Build your brand, expand market awareness, gain customers, and reduce costs…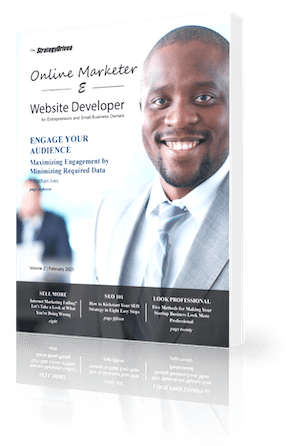 StrategyDriven's Online Marketer & Website Developer magazine brings decades of real-world experience to help you succeed within the digital marketplace by providing you with the insights and actions needed to further your business' success. This month's issue contains topics including:
ENGAGE YOUR AUDIENCE – Maximizing Engagement by Minimizing Required Data
SELL MORE – Internet Marketing Failing? Let's Take a Look at What You're Doing Wrong
SEO 101 – How to Kickstart Your SEO Strategy in Eight Easy Steps
LOOK PROFESSIONAL – Five Methods for Making Your Startup Business Look More Professional
…and numerous others!
Read this month's issue of Online Marketer & Website Developer to accelerate your dominance of the digital market!
GET THE ONLINE MARKETER & WEBSITE DEVELOPER – VOLUME 2, FEBRUARY 2021 MAGAZINE – IT'S FREE