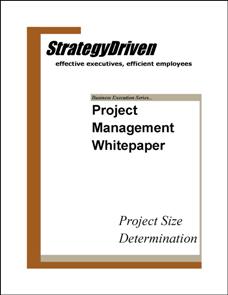 A project's size often dictates the necessary level of governance and management applied to the initiative. This governance and management typically includes items such as:
required authorizations
level of planning detail
frequency and breadth of communications
Subsequently, accurate estimation of a project's size during project initiation is essential. But what characteristics should be considered in the project's size determination and how should the project size criteria for each of these characteristics be identified?
The StrategyDriven Project Size Determination whitepaper provides business leaders and project managers with an easy to follow method for creating a policy to define project sizes along several key parameters and the appropriate level of executive and/or management oversight to accompany each size.
Click here to download your copy of the Project Size Determination whitepaper.