Wonder how other organizations achieve superior levels of performance? Wish you could emulate their success within your own organization?
Implement the Sevian Benchmarking Program to drive the systematic pursuit of in-depth knowledge as to how others succeed and then incorporate that information into your programs in a way that is well aligned with your organization's culture and practices.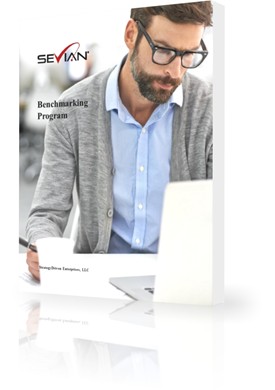 An effective benchmarking program drives performance improvement through the identification and implementation of the best practices of other organizations.
The Sevian Benchmarking Program includes all of the tools and information needed to systematically evaluate the similar processes, products, and/or services of other top performing organizations with the intent of incorporating their best practices into your organization's existing programs.


Sevian Benchmarking Program Product Abstract
Program Document
Product ID: BMK-EP-15V01R02C02
Date Published: August 2015
Document Type: Executing Procedure
Document Length: Approx. 400 pages
File Type: Adobe PDF (.pfd)
Program Training
Introductory Training: 1 day, conducted onsite for up to 15 trainees
Program Implementation Support
Facilitated Benchmarking Event: 4 days, conducted onsite at the to be benchmarked location, supported by 1 Sevian Business Advisor
1. Sevian Business Programs are customized to your organization's specific attributes. As such, your customized program will be delivered 2 – 4 weeks following receipt of requested organizational data.
2. StrategyDriven maintains strict confidentiality of client data in accordance with our Confidentiality Agreement policy.
SCHEDULE A SEVIAN BENCHMARKING PROGRAM REVIEW MEETING