StrategyDriven Advisors possess decades of experience helping leaders of small to Fortune 500 companies define and implement the complex, mission-critical projects needed to improve operational effectiveness and reduce costs.
Isn't it about time these people were working for you?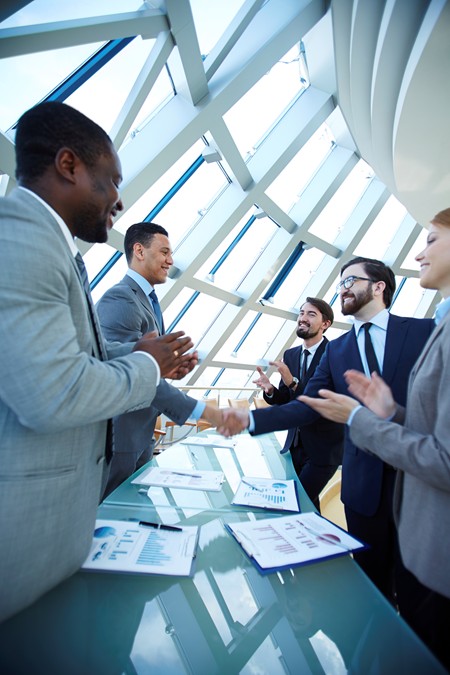 How It Works
Regardless of your position or the size of your company, StrategyDriven provides you with the advisors, methods, and tools typically available to only large company executives and senior managers. No longer does the competitive advantage lie with those who have deep pockets. Our employment of true experts, use of modern technologies and streamlined business operations ensures you receive exceptional advisory services at an affordable price regardless of your budget. Here's how we do it:
1. Select Your Advisor – Chemistry is everything. Your success depends not only on finding the advisor possessing the experience, education, and training you need, but in connecting with someone you can relate to and trust. That's why we offer a free initial consultation. It's an opportunity for you to get to know your advisor and assess how he/she can help you succeed.
2. Identify the Support You Need… No More, No Less – Why pay for a small army of consultants when all you need is periodic, focused advice? Our plans ensure you have access to the experts you need in the amount you want with no requirement to include costly staff personnel. Want a just few hours per month or full time? No problem. You decide.
3. Select the Tools You Want – Don't want a lot of bells and whistles? Really don't want to pay for the development of your consultant's thoughtware? Purchase only the tools you want to use for your project, fully developed and maintained on our dime.
4. Determine How You Want Us to Engage – We're flexible and technology savvy. We employ modern communications technologies; interacting via video and teleconference whenever possible thereby eliminating the need for expensive travel and your office space. (But we will always be there when we are needed!)
5. Choose Your Engagement Duration Without Being Locked-in – Your business circumstances change. You don't want to be locked into long-term consulting contracts. StrategyDriven's plans renew on a monthly basis. You can cancel at any time.*
Experience the Best of All Worlds
At StrategyDriven, we believe in the power of and
StrategyDriven Advisors possess hands-on business management experience and sound academic training. We've not only 'stood the watch' as senior business leaders, we hold the advanced degrees, licenses, and certifications relevant to your projects. It's why we publish our resumes.
And…
We bring a distinct, well-defined, and tested methodology to each engagement. We advise clients only on projects that are the same or highly similar to those for which we have achieved or helped others achieve superior results. Thus, we come to you with a proven roadmap for success.
And…
StrategyDriven clients are further supported by industry-specific program models, best practices, and performance benchmarks. We've tailored our tools to the unique operations, risks, and language of the industries we serve as only then can clients be provided with truly insightful advice. Our solutions are custom made… not generic.
Schedule Your Free One-On-One Consultation
A StrategyDriven Personal Business Advisor consultation is a value-adding one-on-one conversation with an experienced business executive. This 60 minute, unrushed conversation is an opportunity for you to get to know us and to explore how StrategyDriven's vast resources can best help you succeed.
* StrategyDriven Personal Business Advisor engagements can be cancelled at any time. Access to the engagement advisor will continue until the end of the paid contract period. An early termination penalty may apply to those contracts including products. See your specific contract for details.