StrategyDriven Available on LeadershipDigital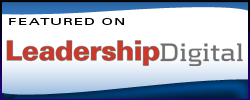 StrategyDriven is honored to have our non-subscriber content included on LeadershipDigital, a topic hub that collects and organizes the best business and leadership articles on the web in order to advantage its audience of executives and managers. Topic Hubs are sites that aggregate content from a variety of sources, organize that content around keywords in the topic domain, and support both manual and social curation of the content.
LeadershipDigital's goals are:
Collect High Quality Content – The goal of a content community is to provide a high quality destination that highlights the most recent and best content as defined by the community.
Provide an Easy to Navigate Site – End users most often are people who are not regular readers of the blogs and other sources. They come to the content community to find information on particular topics of interest to them. This links them across to the sources themselves.
Be A Jump Off Point – To be clear all content communities are only jump off points to the sources of the content.
Help Surface Content that Might Not be Found – It's often hard to find and understand blog content that's spread across sites. Most users are not regular subscribers to these blogs and other content sources.
The site is a collaborative effort started by Tony Karrer. It is generously sponsored by Enlightened Leadership Solutions.
Related content from StrategyDriven
https://www.strategydriven.com/wp-content/uploads/SDELogo5-300x70-300x70.png
0
0
StrategyDriven
https://www.strategydriven.com/wp-content/uploads/SDELogo5-300x70-300x70.png
StrategyDriven
2011-03-14 06:02:19
2013-06-03 22:20:01
StrategyDriven Available on LeadershipDigital