Recommended Resource – Built to Sell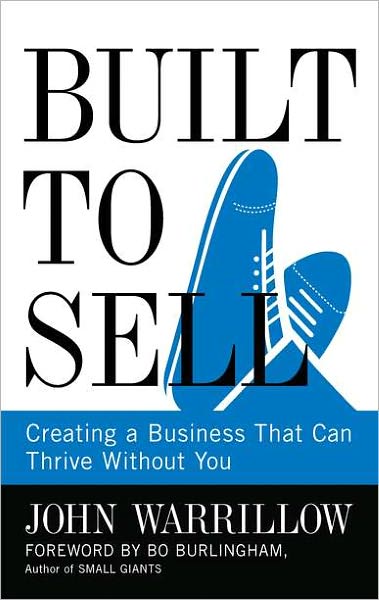 Built to Sell: Creating a Business That Can Thrive Without You

by John Warrillow
About the Reference
Built to Sell
by John Warrillow highlights the many factors preventing business owners from successfully transitioning away from their companies and how to resolve this situation. All too often, business founders embed themselves within the operational fabric of the company they create; setting it up for failure upon they departure. In his business novel, John defines the business characteristics and operating environment owners must establish in order to later remove themselves from the organization without its subsequent collapse. These include:
offering products and services employees or technologies can deliver in the owner's absence
specializing in doing one thing better than anyone else
creating a stream of recurring revenue because customers need to repurchase often
Benefits of Using this Reference
StrategyDriven Contributors like Built to Sell because of its actionable insights presented in a easy-to-consume business novel format. Furthermore, we believe John's principles of creating a successful business apply to enterprises of all sizes, whether public or private.
StrategyDriven Contributors have long warned against the practice of employing 'working managers.' (See StrategyDriven Warning Flag – Working Managers.) We feel management is the work of managers and that to focus on other tasks, particularly those that should be performed by subordinates, dilutes the manager's ability to effectively manage; diminishing overall organizational performance and doing a disservice to both the manager and his/her staff. John's book, Built to Sell, presents in principle the actions necessary for every manager to remove him/herself from the day-to-day work of the business so to allow him/her to manage. Subsequently, the manager can be replaced. In John's book, the owner-manager can sell and transition away from the company without its failing. In a corporate setting, the manager can transition via promotion/transfer and the remaining organization continue to operate successfully.
We believe the principles presented in Built to Sell are broadly applicable and the book to be an invaluable read for managers at every organizational level. For its quality and actionable insights, Built to Sell is a StrategyDriven recommended read.
Related content from StrategyDriven
https://www.strategydriven.com/wp-content/uploads/SDELogo5-300x70-300x70.png
0
0
StrategyDriven
https://www.strategydriven.com/wp-content/uploads/SDELogo5-300x70-300x70.png
StrategyDriven
2012-03-22 06:16:45
2015-09-17 21:57:51
Recommended Resource – Built to Sell