Lead Like it Matters… Because it Does, part 2 of 4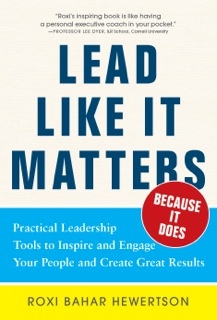 We asked Roxi Hewertson about the 8 overarching leadership insights that kick off her new book Lead Like it Matters…Because it Does
hitting the stores in just a few weeks. She agreed to share them with us as a four-part series. This is Part 2 of 4.
Insight #3: Leadership Is a Discipline, Not an Accident
We know for sure that highly effective leaders get much better results. There is no debate about this, and you know it's plain old common sense. Don't we all want better results? Don't we want to get more bang for the buck?
Those of you who already lead people (as opposed to technology, science or thought leaders, for example) may think you got to your position because you are a good leader and were recognized as such. "They hired me, didn't they?" The sad truth is that you, along with the rest of us, probably got your first and even subsequent leadership roles by luck, not by design, and sometimes even by default.
Leaders find themselves responsible for the work lives of other people because their knowledge, performance, and technical skills as an individual contributor were exemplary, or at least pretty good. Learning to become an Olympic athlete, an engineer, a teacher, a scientist, or an opera singer requires one to learn increasingly difficult skills; to practice, practice, practice; and to receive regular feedback on one's performance again and again.
This is also true for becoming, practicing, and remaining a skilled, effective leader.
Insight #4: Leaders and Individual Contributors Require Opposite Skill Sets and Motivations
From the day we were born, all the applause has been about "what I have done well," not "what we have done well." Look at your life and your experiences and then fast-forward to where you are today. I think you'll agree that for most of your life, your personal performance generated the lion's share of your positive rewards or negative consequences. It wasn't a group of people; it was you, you, and more you.
The exception is teamwork within or outside your family. Whether you were on a great team or a lousy team, you probably learned something about leading and teams. Unfortunately, few people integrate those lessons when they become leaders at work. The fallback position for most of us is what we know best and think we can count on the most – and that would be… 'me.'
The skills, attributes and even motivations required to lead people successfully are entirely opposite from those required to be a successful individual contributor. Consider this: if the roles and skills weren't so opposite, it would be a walk in the park for someone to move seamlessly from being a great violin player to being a great conductor.
In the first case, the violin player is responsible for his performance. While the conductor is responsible for her skills, her real job is knowing how to get the most out of each person so that everyone's work will blend well and produce magnificent music. She succeeds only when the entire orchestra succeeds.
Leading others is an emotional and intellectual seismic shift that will quickly separate effective leaders from ineffective ones. Making the transition from being an individual contributor to being a leader can seem as difficult as swimming from New York to London alone, without a life jacket.
---
About the Author

Leadership authority Roxana (Roxi) Hewertson is a no-nonsense business veteran revered for her nuts-and-bolts, tell-it-like-it-is approach and practical, out-of-the-box insights that help both emerging and expert managers, executives and owners boost quantifiable job performance in various mission critical facets of business. Through AskRoxi.com, Roxi — "the Dear Abby of Leadership" — imparts invaluable free advice to managers and leaders at all levels, from the bullpen to the boardroom, to help them solve problems, become more effective and realize a higher measure of business and career success.
How can you make the leadership leap gracefully? Well, learning and practicing effective leadership skills is a good place to begin. When you read Roxi's book you'll be well on your way! Click here
to learn more.
---
The StrategyDriven website was created to provide members of our community with insights to the actions that help create the shared vision, focus, and commitment needed to improve organizational alignment and accountability for the achievement of superior results. We look forward to answering your strategic planning and tactical business execution questions. Please email your questions to [email protected].
Related content from StrategyDriven
https://www.strategydriven.com/wp-content/uploads/SDELogo5-300x70-300x70.png
0
0
StrategyDriven
https://www.strategydriven.com/wp-content/uploads/SDELogo5-300x70-300x70.png
StrategyDriven
2014-10-08 06:57:39
2015-09-17 23:38:55
Lead Like it Matters… Because it Does, part 2 of 4