Lead Like it Matters… Because it Does, part 3 of 4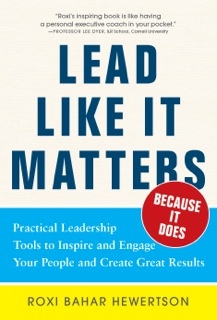 We asked Roxi Hewertson about the 8 overarching leadership insights that kick off her new book Lead Like it Matters…Because it Does
hitting the stores in just a few weeks. She agreed to share them with us as a four-part series. This is Part 3 of 4.
Insight #5: Leading is All About Relationships
Let's get to the heart of the matter. If no one is following you, you aren't leading. Period. You can manage all kinds of tasks that might involve schedules, money, projects, budgets, and so on, and yet everything you do with your staff and other stakeholders involves relationships. How well those relationships work has a lot to do with how much TRUST is at the center of them. Susan Scott, author of Fierce Conversations
, sums it up well. "When the conversation stops, the relationship stops."
The question is not IF we will have relationships at work; the question is what will the quality of those relationships be? Each leader plays a critical role within her and his ecosystem in what I call your 'responsibility pond.' This is where your leadership ripples are most strongly felt, no matter how big or small your 'pond' may be.
As a leader, informal or formal, you contribute to – often create, model, and nurture the norms, culture, and environment that everyone who lives and works in your 'pond' will experience. You can sustain and strengthen the culture or you can weaken and sicken it. Are you part of the solution or part of the problem? Understanding this reality is often a huge wake-up call, and in my opinion, not a moment too soon.
I'm sure you know that it is not enough to be really, really, smart. Emotional intelligence matters a heck of a lot – more even than IQ, particularly if you want to have healthy and productive relationships. Bad and ineffective leaders can create a lot of damage. Good and effective leaders can accomplish incredible feats with their followers.
I believe most of us would choose the latter as our legacy.
Here are 4 suggestions about what you can do to pay attention to those important relationships:
Create a healthy culture
Build trust on purpose and often
Walk around a LOT
Model how you would like others to behave
Insight #6: Learning the 'Soft Skills' is Hard!
I've noticed that adults tend to resist learning or re-learning good interpersonal and social management skills. These involve thinking about relationships, behaviors, and even emotions. This is very different than an impersonal or technical task – and still it is a task – just a human one.
This IS hard work. Most of us know that we need to engage and energize employees, build trust, and communicate so that people understand us and know where the organization is going. They want and need to know what part they can play in getting there. We will not get all that good stuff from our people without doing all the hard soft stuff. It's really that simple.
Mastering leadership skills is not rocket science. It is a lot harder, precisely because it is far more qualitative than quantitative, and because we are leading people, not machines.
Building trust is one of the key outcomes of mastering interpersonal skills. Try to resist the urge to say, 'Oh, no, not the touchy-feely stuff!' Because, really, you can't get far in life without knowing how to communicate so people understand, how to have tough conversations, or how to transform conflicts into solutions.
While it does take determination, practice, and feedback, nothing is beyond you when you are committed to learning or honing your interpersonal skills. And I know I'm not telling you anything new; I'm just reminding you to pay attention and grow your emotional intelligence competencies to improve your effectiveness. When you do this… your teams will thrive and of course all of this flows directly to your bottom line.
Here are 4 suggestions about where to focus some of your attention:
Listen more than you talk
Increase staff engagement at every opportunity
Make improving your dialogue skills a priority
Take or revisit what you learned in a good leadership course
---
About the Author

Leadership authority Roxana (Roxi) Hewertson is a no-nonsense business veteran revered for her nuts-and-bolts, tell-it-like-it-is approach and practical, out-of-the-box insights that help both emerging and expert managers, executives and owners boost quantifiable job performance in various mission critical facets of business. Through AskRoxi.com, Roxi — "the Dear Abby of Leadership" — imparts invaluable free advice to managers and leaders at all levels, from the bullpen to the boardroom, to help them solve problems, become more effective and realize a higher measure of business and career success.
How can you make the leadership leap gracefully? Well, learning and practicing effective leadership skills is a good place to begin. When you read Roxi's book you'll be well on your way! Click here
to learn more.
---
The StrategyDriven website was created to provide members of our community with insights to the actions that help create the shared vision, focus, and commitment needed to improve organizational alignment and accountability for the achievement of superior results. We look forward to answering your strategic planning and tactical business execution questions. Please email your questions to [email protected].
Related content from StrategyDriven
https://www.strategydriven.com/wp-content/uploads/SDELogo5-300x70-300x70.png
0
0
StrategyDriven
https://www.strategydriven.com/wp-content/uploads/SDELogo5-300x70-300x70.png
StrategyDriven
2014-10-22 06:15:43
2015-09-17 23:38:17
Lead Like it Matters… Because it Does, part 3 of 4