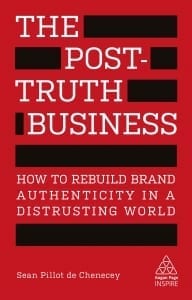 Businesses want to have strong and long-lasting relationships with their consumers. That relationship is built on trust, but in a post-truth world brands are faced with a serious challenge: so much of modern life is defined by mistrust.
I believe that for brands, trust and truth are the most important games in town.
The 'trust issue' is a central theme for organisations in any sector, and it's one in which I've conducted a mass of research into how a post-truth culture is impacting brands, across an array of business sectors, on a global basis. To quote The Economist "consumer trust is the basis of all brand values, and therefore brands have an immense incentive to retain it".
Why is this so important? Because, if a brand isn't seen as credible and trustworthy, then when choice is available it'll be rejected in favour of one that is – by those who view themselves as being 'informed' as opposed to 'passive' consumers.
This is due to a weakening of the vital trust connection between brands and consumers and is causing enormous problems for businesses. The ramifications for brands in sectors of all description are deeply serious, when 'reputation capital' is of such immense importance, regarding our belief in those core questions of 'is a business honest, competent and reliable?'
But just running an advertising campaign stating that a brand is trustworthy isn't good enough. This isn't a marketing issue, this is a business-wide issue, involving every facet of the organisation, hence leadership being so important.
Companies have to be consistent in their behaviour, from top to bottom, and right along the supply chain, from the 'first hand of production to the final hand of the consumer'.
And this genuinely has to go all the way. Make no mistake, organisations and brands that want to earn and keep our trust have to 'live it like they say it'. Business has to be about more than just profit. 'People plus Planet' and to quote a much-derided word 'Purpose' have to be in there too.
The 'actual' difference between ethical brands with a moral code and those exposed as being without one, is increasingly a key factor in consumer brand adoption or rejection. This approach very much links to social innovation and indeed conspicuous altruism.
'Social Purpose' is a phrase used obsessively by modern, forward-thinking leaders, and links directly to joint value creation where both shareholders and society benefit from business. Yet many still attempt to portray, or indeed dismiss, the demographic most associated with this ideal as being one where, as The Guardian newspaper put it recently "the idea that market activity should have a purpose other than purely profit is roughly where it always was on the spectrum, somewhere between Marx and Jesus – one for the rioters, the subversives, the people with beards, unsuited to mainstream discourse."
To illustrate that this thinking goes right to the top of hard-headed business thinking, in their 'Reflections from Davos' report regarding the meeting of the World Economic Forum, the managing partner of McKinsey was quoted as saying "the next innovation imperative will be social innovation – business's role will be critical here." The report went on to note "society is demanding that companies, both public and private, serve a social purpose".
This is set against research from those such as Deloitte who show how millennials are fast losing faith in business; and against a backdrop where people are scrambling to find solid ground in an era when we're told that the very notion of truth is subjective, and indeed much of public discourse has become increasingly anti-fact and anti-expert.
Fortunately there are numerous shining examples of organisations that are showing us all 'how to do it better' ranging across the business spectrum, in sectors ranging from beauty to finance, and from fashion to beverages.
With good leadership at the core of these businesses, all members of the organisation are enabled to understand and demonstrate 'why they do it, what they do and how they do it'. And this means leaders of companies taking deliberate and definitive action to ensure that their businesses demonstrate 'corporate social leadership'.
This will also enable the truism that 'good business is good business'.
---
About the Author
Sean Pillot de Chenecey, author of The Post-Truth Business: How to Rebuild Brand Authenticity in a Distrusting World, has over 20 years' experience as a brand expert, combining marketing consultancy with ethnographic activity and trend research around the world. His clients have included Unilever, Swatch, Heineken, Diageo, General Motors, Beiersdorf, AXA, Costa, Vodafone, Kerrygold and Starwood. He's collaborated with numerous international advertising, branding, design, media and PR agencies. He is a lecturer at the University of the Arts London, and has written for Dazed, Admap, Brand Strategy, Marketing and Contagious. A public speaker, he's given speeches for over a decade in Asia, Europe, Africa, the Middle East and North America. For more information, please visit www.koganpage.com/post-truth-business
Related content from StrategyDriven
https://www.strategydriven.com/wp-content/uploads/9780749482817.jpg
1878
1200
StrategyDriven
https://www.strategydriven.com/wp-content/uploads/SDELogo5-300x70-300x70.png
StrategyDriven
2019-03-15 08:00:25
2019-03-15 21:03:08
The Trust Issue