How Much Does It Cost to Build a Website? A Guide on Web Design Prices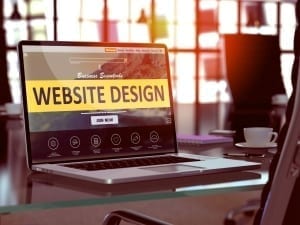 Despite the fact that we're all living in a digital world these days, there are still a lot of small businesses out there operating without a website.
In fact, studies have shown that about 50% of small businesses don't have a website set up at the moment. This is likely having an impact on many of these businesses' bottom lines by affecting their ability to generate income month in and month out.
One of the reasons why some business owners choose not to invest in a website for their company is because of their perceived web design prices. They're often under the impression that a website is going to cost too much money to create.
But this couldn't be further from the truth. If you own a small business, you can get a website up and running without breaking the bank.
Before you take this leap, though, find out some of the factors that will impact how much a website will cost you. It'll allow you to budget money wisely for creating a website.
Here are some of the things that can lead to web design prices going up or down.
What Is Your Website's Domain Name Going to Be?
Before you can begin building a website for your business, you're going to need to invest in a domain name for it. More often than not, your domain name is going to be your business name with ".com" on the end of it.
If this domain name is readily available, it shouldn't cost you much money at all to snatch it up for your website. But there is a chance that someone might already own the rights to the domain name that you want.
If this turns out to be the case, you can:
Come up with a different domain name other than the one that you had in mind
Consider paying whoever owns the domain name that you want for the rights to it
Often times, business owners will go with the first option to avoid spending a small fortune on a domain name. But if you really want a domain name, you can make whoever owns it an offer.
Doing this will cost you more than you anticipated to spend. But it'll be well worth it if you think that the domain name is going to help drive more traffic to your site.
Who Is Going to Host Your Website?
Buying the domain name that you want for your website is going to be the first expense you incur when creating a site for your business. Finding a website hosting service is going to be the expense that comes right behind it.
You'll need a reliable website hosting service on your side to help you with all your hosting needs when you're getting a site off the ground. They should have a great reputation for helping host small business sites.
You might have to pay a little extra to work with one of the best website hosting services in the business. But it'll be worth it once you see the services that they're able to extend to you while you're in the process of setting your site up and updating it over time.
Is Your Website Going to Get a Custom Look?
Once you have a domain name for your website and a website hosting service on your side, it'll be time to get down to business. You'll be ready to start putting together plans for your actual site.
To do this, you'll have the option of either:
Using a website template to create your site
Hiring a web designer to create a custom site from scratch
The first option is hands down, the better option for anyone on a tight budget. You'll keep your web design prices low by going with a website template.
But the second one is great for those businesses that want to make their websites stand out. You can hire a website development company to bring each and every idea that you have for your site to life.
Who Is Going to Create Your Website?
If you decide that you're going to hire a website development company to work on a custom site for you, the specific company you hire will affect your web design prices.
If you choose to hire a well-established company with a lot of web design experience, they're going to charge you more than someone who just started designing websites last week. Consider a bunch of different options when looking for the right website development company.
The company that you bring on board to work on your website should have:
Plenty of experience in the website development industry
A long list of web design services
Lots of examples of sites they've developed in the past
Fair and affordable prices on the services they offer
It's not a bad idea to call a handful of website development companies to get quotes for their services. It'll help you keep your web design prices as low as you can.
How Many Different Pages Are Going to Be on Your Website?
There are some websites out there that have little more than a homepage and maybe an "About Us" page and a "Contact" page. These basic sites are easy to design and won't cost much money to create.
But many times, businesses need their websites to have more than just those pages. They also need product pages, service pages, blog pages, and more set up. They want to be able to jampack their sites with all the necessary information.
If your website is going to need more than a few pages on it, it's going to send your web design prices soaring. That's not to say that you shouldn't still create those pages. But you should be mindful of the fact that it's going to impact the final cost of your site.
Is Your Website Going to Have Any Special Features?
With almost 1.8 billion websites on the internet today, you're going to want to find ways to make your site stand out. That might mean adding a bunch of special features to your site to make it unique.
Some businesses are incorporating things like video into the mix on their websites these days. They're finding that they're able to get more traction with customers this way.
Other businesses are adding things like chatbots to their sites so that customers can connect with them in a hurry without picking up the phone. This is making it easier for many businesses to form bonds with their customers.
You don't have to invest in these kinds of special features. But it's worth looking into some of them to see how they might improve your site, even if they cause a slight bump in your web design prices.
Will Your Website Need to Have a Store Included on It?
Are you going to sell products and/or services to your customers through your website? If that's your plan, you're going to need to create a store that can accept payments from them.
Doing this isn't anywhere near as complicated as it used to be. You can have a web designer build you a special section on your site where people will be able to order products and services from you.
But this will often come at an additional cost, especially if your web development company has to beef up your site's security so that you can start taking online orders. You'll need to make room in your budget for this particular aspect of your site.
Who Is Going to Be in Charge of Updating Your Site?
Once you have your website up and running, updating it is going to be of the utmost importance. If you don't take the time to update your site, it's going to take a toll on your site's search engine optimization and make it hard for people to find it.
If you're even the least bit web savvy, you should be able to handle updating your site on your own. You can add new content to it every so often to show Google and the other search engines that you're on top of maintaining it.
But if you don't have the time, energy, or patience to update your site, that will be another additional cost you'll have to factor in. You may need to enlist the services of a company that specializes in beefing up the SEO of websites.
Don't Let Web Design Prices Stop You From Creating a Website
Now that you know some of the factors that affect web design prices, you might feel overwhelmed by the costs associated with setting up a site. Don't be!
You can get a website started in no time with a small investment on your part. You can then add to it over time as you see fit to make the costs that come along with owning a website more manageable.
A website will help your company do better business from now on. By spending a little bit of money on your site, you can get a great return on your investment.
Learn how to use a website to your advantage by reading through the other articles on our blog.
Related content from StrategyDriven
https://www.strategydriven.com/wp-content/uploads/How-Much-Does-It-Cost-to-Build-a-Website-A-Guide-on-Web-Design-Prices.jpeg
900
1200
StrategyDriven
https://www.strategydriven.com/wp-content/uploads/SDELogo5-300x70-300x70.png
StrategyDriven
2020-03-17 16:00:56
2020-03-17 12:00:59
How Much Does It Cost to Build a Website? A Guide on Web Design Prices