We can assist in the assessment of your organization's safety culture and the improvement or development of your safety culture guidelines, focused on desired leadership behaviors, management decisions, and corporate safety program guidelines. We can then help translate these safety-first values into day-to-day operating guidelines that are further enhanced with industry best practices, including OSHA's Voluntary Protection Program (VPP) requirements. Contact us to learn more.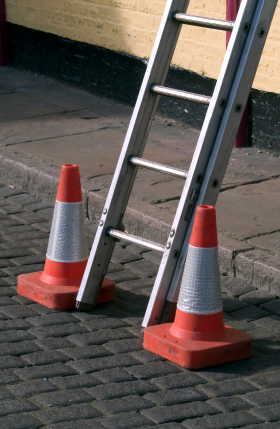 Case Study
Background
A StrategyDriven Advisor led project management teams of highly experienced industrial personnel in the implementation of the OSHA Voluntary Protection Program (VPP). While in management of ongoing project operations at a $1.4B, 10,000 employee Regional Maintenance Center, he directly managed and implemented VPP process improvement initiatives.
Engagement Approach
Our advisor worked with bargaining unit employees and supervisors as a member of management to identify personnel safety concerns, hazards, and organizational climate to foster and develop near and long term improvement plans. Weekly project team meetings, daily safety concerns discussions, and worksite personal involvement facilitated continued process improvement and accountability.
Value Delivered
Unambiguous, visible safety improvement plans were developed to increase organizational safety awareness, encourage active employee participation, and instill a positive social safety atmosphere between employees and management. Through added program improvements, employees greatly reduced cultural 'fears' of reprisal when voicing safety concerns to supervisors and management while improving operational efficiencies in cost , schedule, and quality. Organization is now an OSHA 'STAR' site due to its safety improvements.
The StrategyDriven Difference
Decades of hands-on industrial operations, maintenance, engineering, work management, training, and regulatory experience. Substantial relational experience working vertically at all levels within organizations to improve operational safety.
StrategyDriven Safety Culture Accelerators
Safety Culture Assessment Strategies
Developed by StrategyDriven's nuclear professionals and validated against industry regulations, standards, guidelines, and best practices, these assessment tools enable a qualified and quantified assessment of an organization's safety culture: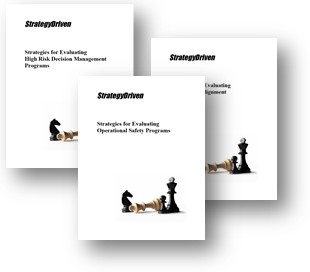 Strategies for Evaluating Operational Safety
Strategies for Evaluating High-Risk Decision Management Programs
Strategies for Evaluating Operational Alignment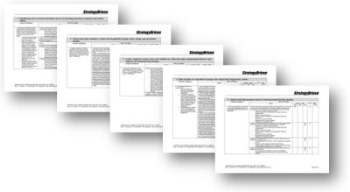 Strategies for Evaluating Management's Establishment of a Safety Culture
Strategies for Evaluating Management's Emphasis of Safety Focused Behaviors and Decision-Making
Strategies for Evaluating an Organization's Problem Identification and Correction Culture
Strategies for Evaluating the Control of Operational Risks
Strategies for Evaluating Operational Decision-Making
Organizational Values Alignment Model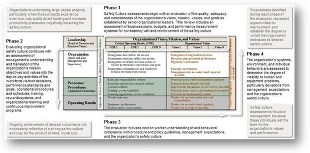 StrategyDriven's Organizational Values Alignment Model provides a visualized assessment approach for evaluating the translation of an organization's vision, mission, and values into the day-to-day decisions and actions of its workforce. This model was developed based on decades of nuclear industry experience and the direct performance observation and interviews of dozens of nuclear utility executives, managers, and craft.
Safety Culture Workforce Surveys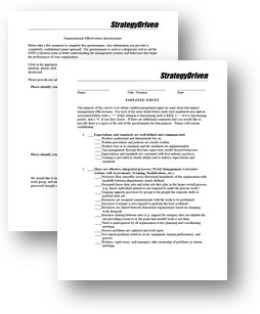 StrategyDriven's Safety Culture Workforce Surveys enable the rapid probing of the USNRC and INPO's several nuclear safety culture attributes from the breadth of an organization's management and staff. Developed by experienced nuclear professionals, this survey provides insights to the degree of cultural alignment between managers and staff as well as identifying opportunities for further investigation and improvement.
Corrective Action Program Framework



StrategyDriven's corrective action program process models aligns with regulatory regulations and industry standards and guidelines. Additionally, we incorporated industry best practices gained through first-hand experience working with dozens of utilities and industrial facilities over the past several decades.
Performance Measures Catalog



StrategyDriven's catalog of Power & Utilities performance measures includes hundreds of metrics based on U.S. NRC, INPO, and NEI guidelines and industry best practices. Our systems support process performance and productivity measurement and are presented in a traditional vertically aligned, organizationally cascaded and NEI Standard Nuclear Performance Model sets complimented by best practice dashboard and metric style sheets.
Industrial Programs Best Practices Catalog



StrategyDriven's inventory of hundreds of industrial asset management and operational programs best practices supports a qualitative phase-by-phase assessment of work management process performance – making improvements in process execution readily identifiable and often easily implemented.
StrategyDriven Corporate Cultures Thought Leadership
StrategyDriven regularly publishes principle, best practice, and warning flag insights that provide immediately actionable methods to identify the organization's values, including their benefits and drawbacks, and to align the culture with achievement of the organization's overarching goals.
Click here to visit the StrategyDriven Corporate Cultures Forum.