Recommended Resource – Managing the Nonprofit Organization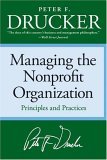 Managing the Nonprofit Organization

by Peter F. Drucker
About the Reference
Managing the Nonprofit Organization
by Peter F. Drucker addresses the unique management challenges associated with nonprofit organizations. In this book, Dr. Drucker explains the differences between managing for-profit and nonprofit organizations in the areas of mission, leadership, resources, marketing, and goals.
Benefits of Using this Reference
Nonprofit organization management can be truly challenging in the areas of strategic planning and tactical business execution because of the lack of a profit driver. In our experience, nonprofits that don't effectively replace the profit driver with another equally strong motivator risk diminished performance and organizational value.
StrategyDriven contributors like Managing the Nonprofit Organization
because it illustrates a method for creating a compelling mission, setting goals to that mission, and gaining and maintaining employee/volunteer commitment to the achievement of the mission goals. We believe that while essential to the management of nonprofit organizations, many of the principles Dr. Drucker describes in Managing the Nonprofit Organization
would greatly benefit for-profit companies as well.
Many of the best practice recommendations found on the StrategyDriven website compliment the principles described in Managing the Nonprofit Organization
; making this book a StrategyDriven recommended read.
Related content from StrategyDriven
https://www.strategydriven.com/wp-content/uploads/SDELogo5-300x70-300x70.png
0
0
StrategyDriven
https://www.strategydriven.com/wp-content/uploads/SDELogo5-300x70-300x70.png
StrategyDriven
2007-09-16 08:09:27
2015-09-17 23:22:04
Recommended Resource – Managing the Nonprofit Organization