StrategyDriven Podcast Special Edition 33 – An Interview with Larry Myler, author of Indispensable By Monday
StrategyDriven Podcasts focus on the tools and techniques executives and managers can use to improve their organization's alignment and accountability to ultimately achieve superior results. These podcasts elaborate on the best practice and warning flag articles on the StrategyDriven website.
Special Edition 33 – An Interview with Larry Myler, author of Indispensable By Monday explores how to increase one's personal profit-production, thereby enhancing the organization's bottom-line and one's overall business value. During our discussion, Larry Myler, author of Indispensable By Monday: Learn the Profit-Producing Behaviors that will Help Your Company and Yourself
and Chief Executive Officer of By Monday, shares with us his insights and illustrative examples regarding:
the several key employee attributes that make them more valuable to their organization, more likely to be promoted, and more likely to be retained during a corporate downsizing
how to calculate one's value to the organization – regardless of position or function
creating value in areas not under one's direct control
communicating one's profit contribution during an annual performance evaluation
why it is important for employees to be able to read their company's financial statements and what information they should be able to glean from these documents
Additional Information
In addition to the invaluable insights Larry shares in Indispensable By Monday
and this special edition podcast are the resources accessible from his website, www.ByMonday.com. Larry's book, Indispensable By Monday
, can be purchased by clicking here
.
STRATEGYDRIVEN BONUS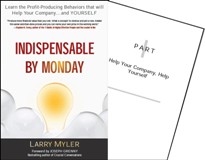 As a special bonus, Larry Myler has made Part 1 of Indispensable By Monday
available for free to all StrategyDriven listeners and readers. Through this excerpt, you'll learn:
what being indespensible looks like
what your boss wants you to do
how to capture your contributions
and much, much more!
Click here to download your copy of Indispensable By Monday's Part 1: Help Your Company, Help Yourself.
Final Request…

The strength of our community grows with the additional insights brought by our expanding member base. Please consider rating us on iTunes by clicking here. Rating the StrategyDriven Podcast and providing your comments online improves our ranking and helps us attract new listeners which, in turn, helps us grow our community.
Thank you again for listening to the StrategyDriven Podcast!
---
About the Author

Larry Myler, author of Indispensable By Monday
, is Chief Executive Officer of By Monday, a consulting firm specializing in profit enhancement through employee engagement. Over the course of his thirty year career, Larry has helped others improve their businesses through consulting and training for leadership teams and employees in the areas of interpersonal communication, profit enhancement, organizational efficiency, survey research, and more. His past clients include AT&T, Shell Oil, Lockheed Martin, and Ford Motor Company. To read Larry's complete biography, click here.

Podcast: Play in new window | Download (Duration: 38:22 — 52.7MB)
Subscribe: RSS
Related content from StrategyDriven
https://www.strategydriven.com/wp-content/uploads/SDELogo5-300x70-300x70.png
0
0
StrategyDriven
https://www.strategydriven.com/wp-content/uploads/SDELogo5-300x70-300x70.png
StrategyDriven
2010-04-29 06:34:11
2015-10-07 23:31:57
StrategyDriven Podcast Special Edition 33 – An Interview with Larry Myler, author of Indispensable By Monday