Balancing Performance Measures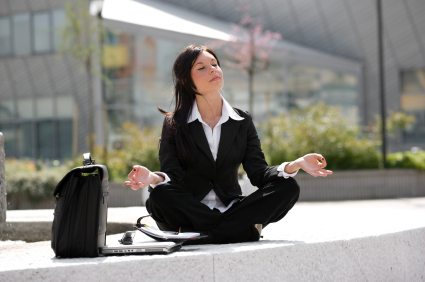 Because resources are always limited and there is no free lunch, too much of any one thing can be bad.[wcm_restrict plans="41706, 25542, 25653″]
Each performance measure promotes behaviors supporting the realization of ever improving performance as defined by the measure itself. Because metrics (not indexes) represent a single performance characteristic, they drive excellence in only that one dimension. As more and more of the organization's limited resources are applied to achieving success in that one area, other performance dimensions from which resources must consequently be drawn begin to suffer. Thus, too much emphasis on achievement in one area diminishes performance in others and can be detrimental to the organization's overall success. It is for this reason that balancing performance measures must be employed.
Balancing metrics help ensure an appropriate focus is paid and resources applied to each key performance dimension so to achieve optimal results. These metrics represent resource competitors within the same process. General balancing metrics include:
Productivity – Quality
Cost – Quality
Cost – Productivity
Cost – Features / Service Level
Cost – Parts/Material Availability
Application of balancing measures compels leaders to optimize performance across several competing factors. For instance, high inventory levels ensure parts are always available to support high uptime and productivity but at an extreme cost. Managing inventory levels in consideration of cost elevates the risk of extended equipment outages (because of a lack of readily available repair parts) and lost productivity (because of extended outages and a lack of materials used in the production process) but lowers costs. Optimizing inventory availability and cost yields the highest return on the organization's investment. Figure 1 illustrates this example.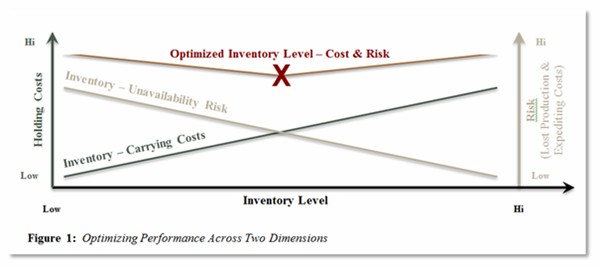 Outcome optimization, therefore, is achieved by balancing competing performance dimensions. Depending on the organization's strategy, one dimension may be favored over another, skewing the point at which the optimized balance is achieved toward the favored dimension. Regardless of the balance point, competing performance dimensions must be factored into the optimization process thereby necessitating balancing performance measures.[/wcm_restrict][wcm_nonmember plans="41706, 25542, 25653″]
---
Hi there! Gain access to this article with a StrategyDriven Insights Library – Total Access subscription or buy access to the article itself.
Subscribe to the StrategyDriven Insights Library

Sign-up now for your StrategyDriven Insights Library – Total Access subscription for as low as $15 / month (paid annually).

Not sure? Click here to learn more.

Buy the Article

Don't need a subscription? Buy access to Organizational Performance Measures Best Practice 30 – Balancing Performance Measures for just $2!

[/wcm_nonmember]
---
About the Author

Nathan Ives is a StrategyDriven Principal and Host of the StrategyDriven Podcast. For over twenty years, he has served as trusted advisor to executives and managers at dozens of Fortune 500 and smaller companies in the areas of management effectiveness, organizational development, and process improvement. To read Nathan's complete biography, click here.
Related content from StrategyDriven
https://www.strategydriven.com/wp-content/uploads/BalancedMetrics.jpg
282
425
Nathan Ives
https://www.strategydriven.com/wp-content/uploads/SDELogo5-300x70-300x70.png
Nathan Ives
2014-01-28 06:36:59
2020-10-24 15:57:50
Balancing Performance Measures